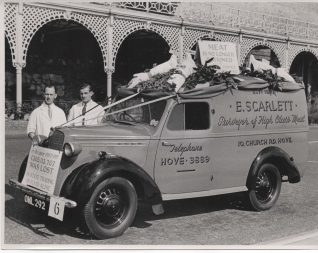 From the private collection of Michael Clark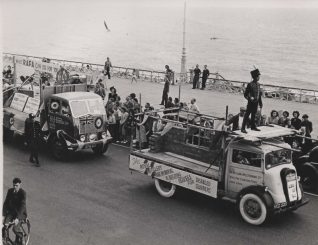 From the private collection of Michael Clark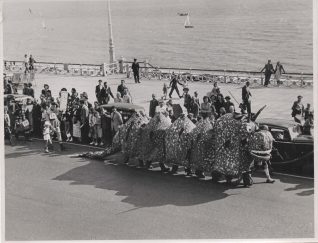 From the private collection of Michael Clark
I found these photographs in my collection  and would welcome any information that would date them and also identify the 'Parade'.
I am thinking maybe they were taken in the late 1940s or very early 1950s.
It looks like the start of a parade on Marine Drive Brighton; could it have been Brighton Carnival?
The van has a telephone number on the side;I believe a fifth digit was added to Hove telephone numbers around 1950/51.
The message on the front of the E.Scarlett van refers to 1947-48.
The policeman's tunic is fully buttoned to the neck which I think may date it around late 1940s.
Can you suggest a date and the event? If you can help, please leave a comment below.
Click on each of the photographs to open a larger version in a new window.