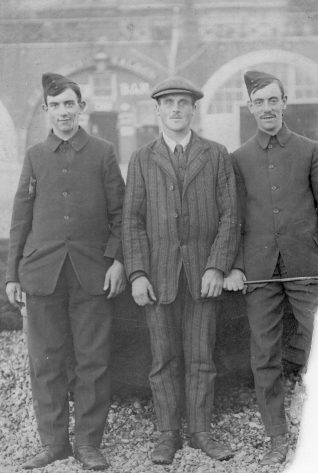 From the private collection of Brian Drury
Exact location on the seafront?
This photograph was taken in Brighton on 18 October 1914. The location is obviously the arches along Brighton seafront but I would like to know more precisely which of the arches.
Stationed in Shoreham
The three young men are from left to right Arthur Goodchild, Sutton Smith and Ned Goodchild. The two Goodchilds were brothers, and all three were in the British Army at the time, stationed in the camp on Slonk Hill in Shoreham. Arthur survived his time at the front but Sutton was killed in March 1917 and Ned was killed in December 1915.
Can you help?
I would like to take a modern day photograph of the location, if only I knew exactly where it was. If you can help me locate the spot, please do leave a comment below.
For a better view, click on the photograph to open a large version in a new window. Click on the image once more to further enlarge.