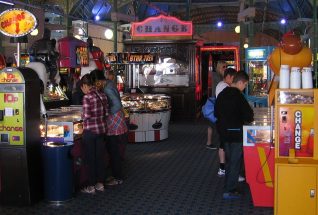 From a private collection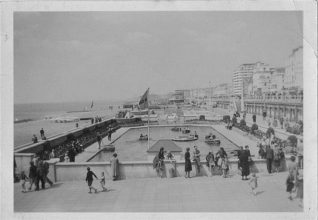 Royal Pavilion & Museums Brighton & Hove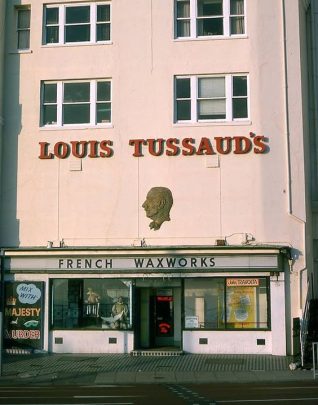 Royal Pavilion and Museums Brighton & Hove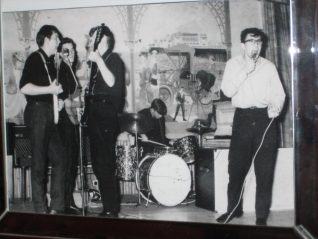 From a private collection
There was always fun to be had in Brighton during the late 50s and early 60s. Particularly if you were a child or teenager. There were, of course, the two piers and all their attractions. There were amusement arcades where you could spend enjoyable times losing your money. A 'win' on any machine was enough to make the visit pleasurable. The arcades were lively places too, with plenty of noise and flashing lights. In the middle of an arcade sat a bored-looking woman, in a glass-fronted cubicle, dishing out pennies, in exchange for larger denomination coins.
"Come in number six"
Along the lower seafront, west of the Palace Pier were three special areas. There was a Crazy Golf course. There was nothing particularly crazy about it but it was great fun for half an hour. Near it was a real boating lake with real boats. These were scaled-down, much slower, speed boats, with petrol engines. You climbed in, the man started the engine and off you went at a sedate pace. I can still recall the smell of the fuel. You steered yourself around a central reservation. When your ride was finished, the man shouted the immortal words: 'Come in, number six, your time is up' And out we clambered. If someone didn't come in when called, the man became more assertive and shouted: 'Oi, you! Out now!'
Waxworks and Hall of Horrors
Further along was a paddling pool which was always crowded on hot summer days. There was also, I think, a place where you could sit on the back of model buses, while a driver took you around a 'road'. Situated near to Pool Valley and next to the Royal Albion Hotel sat Louis Tussaud's Waxworks. This was a bit of a pricy place and not very often visited by children and teenagers, as I remember. In the basement was the Hall of Horrors. I never went down there, being of a nervous disposition.
The joys of a 'Black Velvet'
There were, of course, the pubs. You could get into a pub at 16 if you 'passed'. If the barman was in doubt about your age, he would ask you how old you were. You only had to say '18' to be served. None of us carried any forms of identification as such things had yet to be invented. One favourite drink of mine and my friends was 'Guinness and cider, mixed'. It was what it said on the bottle. It was the poor person's 'Black Velvet', which was Guinness and champagne, mixed. It went down well with a couple of rum and black chasers.
The best ice-cream
There were two special places at the bottom of St James's Street, on the right, looking up the road. One was an Italian ice cream parlour which made, easily, the best ice cream available. It knocked spots off off the version made by Pip's, the well-known producer in Oxford Street. It was if a whole tin of Ideal Milk had been poured into each small tub.
Lethal Turkish Coffee
The other gem was a Turkish coffee bar which, I think, was not open for very long. It served the strongest coffee known to anyone. The coffee was served in small open pots, which had longish, straight handles. I cannot remember if you drunk from the pots or poured the coffee from them. The latter, I would think. The coffee was lethal. One sip started to expand the veins in your legs and the rest left you completely 'wired'. You did not sleep the night after having one of those.
Favourite meeting place
One good summer night out, when we were teenagers, consisted of meeting up for a couple of pints of beer or – the above – Guinness mixture. The meeting place was normally the Bath Arms, in the Lanes. We went on to have 'shorts' in other pubs and then went to the Turkish coffee bar to make sure we were solidly fortified.
A great night out
Finally, we ended up at the Florida Rooms, listening, or trying to listen, to The Who. They were probably the loudest band of all time. There was no possibility of talking to your friends or asking someone to dance. They would not hear you. The Who were a fabulous band though and the fact that we stood in the same place all night, to listen to them, was worth it just to see them. And we were fully tanked up by our visits to the pubs and the coffee bar. A great evening out. And a sleepless night.
Your memories
Do you remember any of Philip's memorable places? Maybe you had other favourites? Post a comment below and tell us about them.