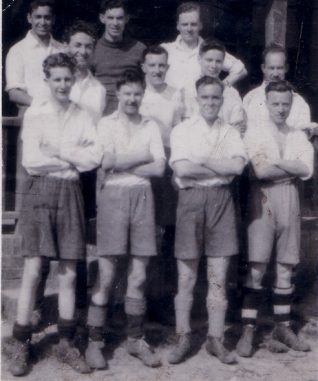 From the private collection of Desmond Divall
75p for a week's work
My first memories after leaving school are of starting work at Allen West, Lewes Road offices in 1942, where I began as office boy at a salary of 15 shillings & 2 pence (Today's 75p), for a five and a half day working week. I worked in the Sales & Estimating office; my task was to sort various order documents of customer requirements passed to me from the salesmen. These were sorted into other departments and workshops, ready for distribution to Lewes Road, Coombe Road, or Moulsecoomb factory sites.
Office personnel
My immediate manager was Mr R. Pullen,who died a short after I began my job,and a Mr A. Anthony took over. The entire office was managed by Mr J. Hall and Director Mr P.C. Jones, in their own sub offices. A large area in the department contained the Order Filing Section, the domain of Miss Newry and her junior young lady filing clerks.
Wartime security measures
At this time, WWII security was vital and all employees were issued with identity passes which could be examined by gatekeepers and special policemen on entry to the various factory sites. Later the passes were replaced by identity lapel badges bearing the letters L, C, or M to mean the Lewes Rd., Coombe Rd. or Moulsecoomb factories.
A wartime fatality
I well remember a gatekeeper and policeman at the Dewe Road factory entrance being killed by the crash of an aircraft, following an air collision of friendly aircraft. Brighton and South Coast areas were raided several times by Nazi 'Hit and Run' aircraft which flew across the Channel from their bases in France. To warn of these attacks observers were based on tops of high buildings; they operated local sound 'Pips'. One observer was based on the top of Coombe Road factory. All factories had their individual air raid shelters, and my particular one was situated in a Home Guard Blockhouse at the Lewes Road works.
Wartime products produced
Luckily the factories were not attacked, but I can remember seeing a deactivated bomb displayed in the palatial directors' boardroom. Allen West produced many products used in wartime, both in WWI and WWII. In WWI there was the Mills Bomb Grenade and in WWII there was the naval ship deguassing gear to counteract the Nazi magnetic sea mines; control pillars for use with anti-aircraft predictors; submarine ventilation fan switchgear; seaport crane gear controllers; brake switchgear and numerous electric motor starters for wartime production factories.
Recruited to the RAF
At about 1943 I was promoted to Junior Salesman to Replace Mr B. Cole who was recruited to the RAF. So after training my replacement junior, I worked as salesman dealing with product repairs, reason gear and HT line gear until I too was recruited to the RAF in 1945; I returned to Allen West in 1948.
You can download a Word document which lists departments and their personnel below.