Clearing up after the bomb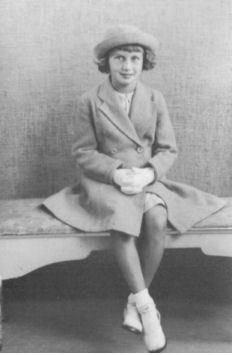 From the private collection of Stevie Hobbs
My family ate the rabbit
After the bomb that dropped on Hollingbury Road, we went around our house writing down all the damage we had sustained so we could report it. I first went to see if the rabbit was OK, and it was, but the kitchen window had blown out and was pushing the wire netting right into the hutch. So we removed that and straightened the wire for her – her name was Venus. She was vicious and I don't know why I loved her as she was always attacking me.They cooked and ate her when she died later, but I couldn't touch one scrap of her.
Effects of the bomb blast
Bomb blast is very strange in the way it behaves. Nan had been sitting looking out of the front room window. She saw the bomb as it went past the window. Then slowly the glass in the three windows was sucked out. We had brown paper strips covering all glass in a criss-cross pattern to prevent shattering, so I guess it could actually have been worse but that is hard to imagine though.
Indomitable Nan
But the upstairs windows above this room were sucked into the room and everything was covered with plaster and glass. People from further up the road came to help and offered to put us up for the night, but Nan said "No Gerry is turning us from our beds!", and kept on working. Indomitable she was. Every room had lost most of its windows. But after Nan had finished, we all slept in our own beds that night.
Blackout curtains
Of course every night we had the blackout. Blackout curtains were made on a frame with the black material stretched over it and fixed with drawing pins. So the whole lot had to be taken down every morning and put up again at night. It was kept in the window frame by a piece of wood which turned round. I used to talk, and sometimes walk, in my sleep, and once in the night I went round the house taking the blackout down. It was said to be dangerous to waken sleepwalkers, so I was left to carry on with the job which meant there could be no lights. It was punishable just to light a candle, so one had small torches.