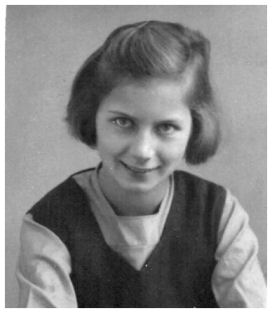 From the private collection of Stevie Hobbs nee Stevens
The dog always first in
We had what was known as  a "Morrison Table Shelter" in the dining room. A huge thing made of steel which had a slatted floor and wire sides which you pulled in after you and fixed with hooks. We seldom put the last side in and, Nan never came in it. The dog, Gyp, was always the first in. As he heard the sirens, in he ran to get the best place to sleep. We had to be woken if asleep and got downstairs in our pyjamas and dressing gowns. I'm surprised Nan didn't make us wash too.
Nan was claustrophobic
Nan never came into the Morrison shelter as she was claustrophobic. Instead she stood on the front door-step letting in the cold air – of course no lights could be shown. She said it was in case anyone wanted to come in and use the shelter. How would we have got them in we used to ask?  Bedding was always kept in there and we kept warm as best we could in an unheated house – and it was in the coldest room in the house because no sun ever shone there.
Anderson shelters
Worse off were those people who had opted to have Anderson shelters in the garden. As we had no man we could never have dug a hole big enough. The garden was solid chalk anyway, below the top couple of inches. I didn't know anyone who had one locally.
I knew every shelter in Brighton
If you were outdoors when the alarm for a raid went off, there was never any hurry about taking shelter. People just sort of ambled in as if going to the theatre. I probably knew the inside of every shelter in Brighton. I loved them. There were always other kids to talk to and you could listen to the grown ups talk.