Part 01: Arrival in Brighton, Christmas 1942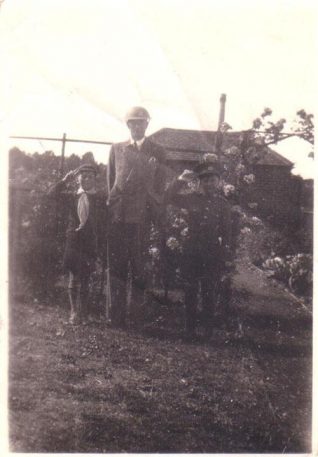 From the private collection of Tony Simmonds
My father moved in his job. He was in the insurance industry and in fact he was promoted to manager in Brighton so we moved down here in '42. We didn't have a Christmas at all that year because we moved just before.
We had a beautiful detached house in Winchester, lovely garden to it, and [my father] didn't want to buy a house in Brighton during the war time so he rented this terraced house in Walpole Road. My mother was horrified; there were mice in there. We put the traps out every night to catch the mice, and we caught 'Daddy Mouse' and 'Baby Mouse'. We had to get a cat to deal with [the mice] She was horrified, absolutely horrified.
I remember that there was a small passageway down the back of the houses and everyone in those days had a coal fire you know. She would not allow the coal man to bring the coal in through the front door; he had to struggle down this passageway to put it in the coal cellar which was at the back of the house! Always remember that.
It had a sort of scullery to it, really old fashioned because it was an 1800s house, and she was horrified but we lived there. In fact when Olive and I were first married, which was over fifty years ago, we moved into there. We took over part of the house and converted one of the bedrooms into a kitchen and that's how we started our married life.
Tony Simmonds was interviewed for the My Brighton and Hove website by Zoe Woods.