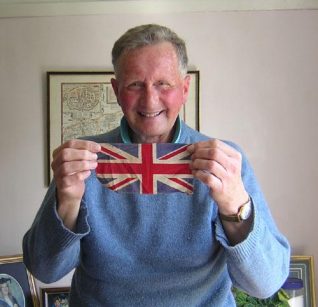 Photograph taken by Zoe Woods
Extract from the diary of Tony Simmonds:
08/05/1945 VICTORY IN EUROPE DAY – I was at work – when I came back from lunch at 2 p.m. I found everyone in a hustle and bustle. The Manager said we were going to get out by 3.30. We did. Even then we had time to rush out to hear Churchill's speech at 3 o'clock and a fine speech it was too.
We all knew something would happen in the evening and it did. It came right up to my fullest expectations. I just can't describe the scene. I was alone most of the time and spent almost five hours around the Clock Tower. People just went mad – dancing, singing, chanting, shouting – the crowd just surged this way and that – The Academy, the Odeon and the Regent were all floodlit for the first time in almost six years – fire crackers, flares and even pre-war 'jumpers' were thrown about the streets – even into busses – all policemen 'had their eyes shut'.
I left at just after 11 pm leaving behind me a riot going on outside the Regent – where a drunken sailor was protesting against a charge of 10/6d for a dance in the Regent Dance Hall. What a day – I shall never forget it for the rest of my life.
Our house is decorated up – four flags – a shield and red, white & blue streamers. Even Mrs Guild next door has her standard flying. As for the town itself – well I never knew there were so many flags manufactured. My bike has a big rosette and streamers on its handlebars.