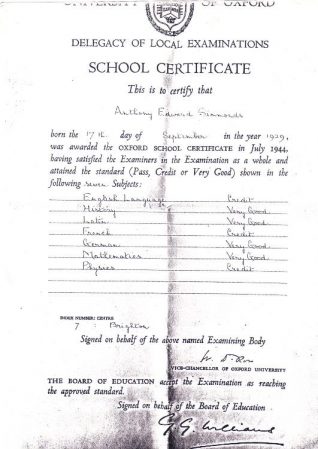 From the private collection of Tony Simmonds
When we came here we lived opposite Brighton College but my father couldn't get us in there so my brother and I went to a Xavarian College, which was a Catholic School in the old Attree Villa near Queen's Park.
I left school in June '44 [after] I took my end-of-school exam, which would be the equivalent of today's A-Levels, in a big building on the seafront overlooking the 'Banjo Groyne'. When I took my exams the invasion had just taken place and the Germans were sending over 'Buzz Bombs' the pilot-less planes, or what the Americans called 'Doodle-bugs'. So picture the scene:
You go in there and you sit down. There's the paper upside down, you know you're not allowed to look at it yet, and he [the examiner] looks at his watch and says "Right, right you can turn your paper over and start writing". So you'd turn your paper over – 'Oh my God I can't answer that one' – and the air raid siren would go and he would say "Carry on writing, carry on writing".
We had two sorts of warning in Brighton; we had the air raid siren which went 'wooo wooo' and that meant there were raiders approaching [and] the pips that went 'pip, pip, pip' meant enemy raiders were almost overhead. So as I said, the air raid siren would go and the examiner would say "Carry on writing" then the pips would go and he would say "Stop writing and follow me down to the cellar".
So there we were, this was in the middle of your end-of-school exam, and we'd go down into the cellar and all the guns along the seafront would all be banging away at these doodle-bugs as they came over. Tremendous noise. And you had this mixture of excitement – 'cor – hark at that noise', fear because you knew if one of those buzz bombs was hit and it were to fall on the place you were in you were finished, and then you had going through your mind, your exam – oh I mustn't forget my train of thought, I must keep my train of thought going.
Then of course the all clear would go which would sound all over the town and "Right, follow me up the stairs." "Right, sit down, carry on writing". This would happen perhaps two or three times during the course of your exam.
[Despite all the interruptions, Tony did very well in his exams and still has his school certificate to prove it.]
Tony Simmonds was interviewed for the My Brighton and Hove website by Zoe Woods.