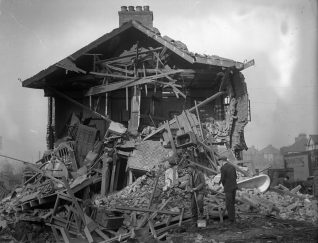 Royal Pavilion & Museums, Brighton & Hove
Bomb sites seemed 'ordinary'
I was not born until three years after World War II but I can remember how the war had clearly had long term effects on many people who lived in Brighton. Looking back, I was too young to realise that these effects were a result of the war. To me, they were just ordinary people. Just as bomb sites were simply part of the town. 
Effects of wartime experiences?
One of our teachers at The Down's Primary School, would have bouts of terrible shaking and an awful temper. It was only later that it was surmised that this was a result of wartime experiences. Later, a Fawcett School, one or two of the teachers had terrible tremors and would break out in sweats at different times of the day. One had a nervous twitch that affected his mouth and tongue. Some say he was sadly nicknamed 'the flycatcher' but I don't remember hearing that.
Fed up of teaching
Like many teachers at the school, he had a awful temper. He often said, 'we won't do any maths today. Ask me some questions'.  At one point, he said, 'ask me some questions about places that I have been to'. Perhaps talking about previous years and other places was cathartic for him. Or perhaps he was just fed up with teaching maths. I suspect that quite a few men went into teaching because the war had created a gap in their CVs  or because they missed military discipline. 
The legacy of war injuries
It was very common to see men who had had legs amputated. They walked around on wooden, under-the-arm crutches. They often had the trouser leg, on the amputation side, folded and pinned up to just below knee level. I presume that access to prosthetic limbs was not readily available. Those who had suffered eye damage, or perhaps blindness in one eye, often work either pink or black eye patches. Some people had clearly lost sight in both eyes, wore very dark glasses and were often accompanied by a second man who led them along, arm in arm. There were one or two blind match sellers in the town. 
A child's view
I first heard of the term 'plastic surgery' after I had seen a conductor on the 26 bus with great disfigurement of his face. My mother told me that he had had plastic surgery, to improve the look of his face. I did not then, know what the term meant and carried on believing that 'plastic' was involved.  As I child, I used to think that he was very brave to take on such a public job. It might be thought of as a patronising sentiment now, but as a child I think it was a way of coping with an unusual situation.