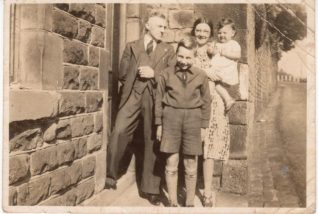 From a private collection
My name is Robert Gunn and I was born in 1929 and lived in Ivory Place. When our house was condemned in 1936, we moved to the new Manor Farm Estate, to No. 14 Maresfield Road where we had an inside bathroom and toilet for the first time.
My brother and I split up
In 1941, I was evacuated to Slaithwaite in Yorkshire and stayed with a family called the Downs (pictured on the right). My brother and I were put on the train to Huddersfield and then from Huddersfield by coach to Slaithwaite. The Social volunteers put us all in a hall and the local people started turning up. My new foster parents arrived to select me. My brother and I were split up. My brother Ronald, who was about 10, was taken to a place near Halifax. His foster parents were very strict.
Opposite the Downs' house there was a butcher, who owned extensive agricultural land on which he raised chickens. I was paid for helping to feed the chickens with buckets of corn seed which I would throw and scatter over the fields. On the day I arrived, my foster father took me to buy a brand new bed in Huddersfield. Unbeknown to him I was suffering from diarrhoea from the soup-type meal we had on the train and he knocked on someone's door to ask if I could use the toilet. With no hesitation, they said yes. This was a sign of the sort of close community I would be living in.
My brother comes to visit
One day there's a knock on my door in Slaithwaite and there were two carer people holding my brother and another little boy. My brother had made up his mind to come and find me and they'd walked all over the moor – 10-12 miles over the moor – until they came across Slaithwaite. Obviously they'd asked questions to find me. My foster parents invited them in to have some tea and to be with me for about an hour. They communicated with my mother to say that her son had walked over the moors to see me.
Back to Brighton
In a letter my mother wrote to my foster parents saying that she was coming up to see me and that she would then take me over to see my brother at his foster address. I accumulated a large tin of sweets from my pocket money to take to my brother. Me and my mother caught a bus to Halifax (I tripped and spilled the sweets all over the floor of the bus but I picked them up again). When we got to my brother's address, my mother sent us out to play while she talked to my brother's foster parents. When me and my brother returned, my mother had already decided to bring us both back to Brighton and his bags were all packed. So we returned to my foster home in Slaithwaite where we all stopped overnight. The next day we made our way back to Brighton. My mother said: "if we're going to die, we'll die together".