Childhood Memories of Ovingdean Village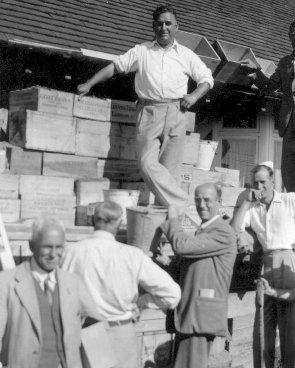 Photo from the Harwood family album
When I was a boy the prisoners of war were encamped at the end of Longhill Road, next to the gun pit – now it looks just like a mound but in the war there was a gun there. As kids we used to play down there. One day I was given a toy wooden plane by one of the prisoners of war – when I got home my mother wanted to know where I'd got it from. When I told her there was such a rumpus because I wasn't supposed to go near the prisoners of war.
I remember that at the end of Longhill Road there was a house that had a huge crack in the side of it because a bomb had gone off – we used to wonder how it was still standing! The bomb had demolished the house on the corner where subsequently Colonel Browning built a very big house. As children we used to roam the debris and thought it great fun.
When the bombs were dropping we were in a steel Anderson Shelter. The whole family would be in there every night for fear of a bomb coming down and demolishing the house. The incendiary bombs were the biggest threat – they would set the felt in the roof alight and up would go the house. I remember the German aircraft coming over and going back – of course they used to drop their bombs on the way home if they hadn't found a target – they would want to offload them so they could fly home in a lighter plane.
Father looked after the ARP- he was teaching at the time and too old to go to war. The ARP post was just before the store just down on the right. I remember him going off in the evenings, doing his duty and returning. In those days Longhill Road was a chalk track and down Beacon Hill was a flint track – it certainly was a bit 'rustic' up here. I remember that the village shop was run by Mr. and Mrs. Miles – in those days it was a wooden hut – you climbed up steps to it and it always smelt of wood. It was a comforting sort of place – it sold Mars Bars and other lovely things. I remember that I was six years of age before I had my first banana.