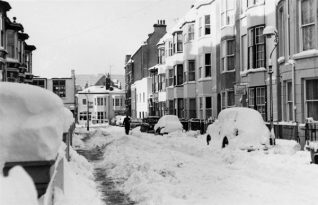 No school that day
I remember the 8th December 1967 very well. I was at Moulsecoomb Junior School at the time in the 4th year, I was 10 years old and we had recently moved to Islingword Street. Luckily for me I didn't have to go to school that day as the teachers had a day off for Christmas shopping, so I stayed at home on my own. I know, a 10 year old in a house on his own! It wouldn't happen these days would it? My parents and Nan went to work and my brother and sister went to school. When they all left the sun was shining but very quickly I remember the sky darkening and the snow started, it was very thick and layed immediately.
No central heating
We lived in a four storey house which was a bit spooky with a dark cellar so I stayed on the ground floor all morning. I remember there being a power cut and we did not have much heating in those days, nobody did as central heating was a real luxury. My poor old Nan was the first to come home about 2.30pm. She worked at a Fish & Chip shop which I believe is still there at the junction of Elm Grove and Queens Park Road; unfortunately she had fallen over in Cobden Road and broken her wrist. Soon after my Mother arrived then the rest of the family, it was an awful day and I remember we had a long power cut in the evening.
Snow is for Christmas cards
I also remember the next day I wasn't too happy that the Albion match against Southend in the F A Cup was postponed. I've never really liked snow since that day, well only on Christmas cards. I also remember the winter of  1963 when the snow seemed to last forever. We lived in Colbourne Avenue then, and I remember opening the front door that faced west and the snow was half way up the door frame. We did not have any days off school either; it was only a short walk around the corner to Moulsecoomb Infants School, but even when Mr Bastable the caretaker came round to say the boiler was not working, on went the coats! All the boys wore short trousers at the time as well, with Wellington boots.