1967: A five hour train journey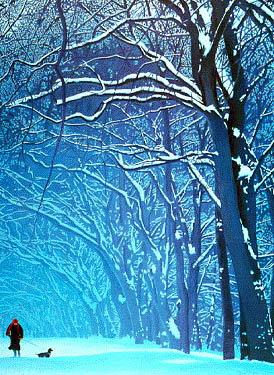 Painting of snow in Preston Park in February 1987, by Philip Dunn
"I was intending to come down from Oxford University that afternoon, and was pleased to see about an inch of snow on the college in bright sunshine first thing.  Leaving Oxford in mid-afternoon, the train arrived at Paddington without incident and I transferred to Victoria, where I caught a train for Brighton soon after 7pm.
Two feet of snow on the Downs
South of Haywards Heath the train was packed, and we stopped at every signal. Only at 1.25am did we reach Preston Park (five hours!). Here I decided to get out and walk home along Station Road, Preston, and was staggered to find nearly two feet of snow had fallen on the south side of the Downs!
A difficult move
On the Saturday (8 December?) my parents were moving house from Cedars Gardens (Withdean) to Hove. Cedars Gardens being a cul-de-sac and a hill had had no gritting, so to get the removal van up the road (in reverse) we had to persuade the Council to grit the road. The men arrived by late morning and we had moved out by around 4pm. On reaching our new house on Woodruff Avenue, Hove, we discovered that the mean-minded previous occupant had even taken the lightbulbs with her!