Trees flung round like matchsticks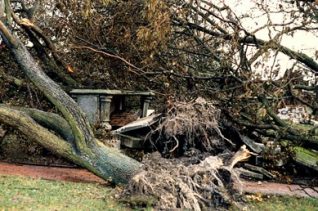 "I walked round Brighton the morning after the hurricane of the night of October 15th 1987. That night winds of 108 miles per hour were recorded. My photograph shows how the force of the wind wrenched mature trees and flung them around like matchsticks.
The area round the oldest church in Brighton was badly hit. The old tombs were badly battered and their lids lifted, such was the dramatic devastation of this lovely old graveyard. St. Nicholas church dates back to approx 1370.
My name is Biddy Cox and I have lived in Brighton for many years."