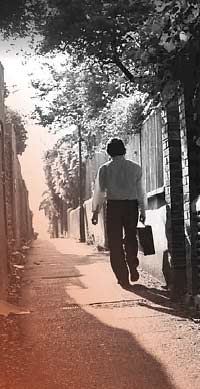 Photo by Helen Diamantopoulo



Local historian Geoff Mead created this guided tour from the train station to the sea, which crisscrosses through the conventional tourist route. The trail highlights 17 places of historical interest representing the varied faces of Brighton.
Volunteers collected stories and photographs from those who live and work along the route. These offer a new perspective on the many faces of the city – and cover a time period from Brighton's origins to the city in 2004.
The History Trail was commissioned by the 24 Hour Museum, the UK's national virtual museum. The 24 Hour Museum is creating a set of Heritage Guides to the country's cities and chose My Brighton and Hove as a partner to build a model city trail. The trail will also be published on the 24 Hour Museum website.
My Brighton and Hove is produced by QueenSpark, Brighton's long-established community publisher.
The History Trail was funded by Culture Online.
Trail commentary
Words by Geoff Mead
Edited by Jack Latimer
Interviewers and researchers
Claire Andrews
Pam Blackman
Zoe Bradford
Rosalind Cook
Louise Halvardsson
Sara Kirkpatrick
Mariam O'Gorman
Rosie Page
Rosemary Turner
Zoe Woods
Photographers
Sean Clark
John Desborough
Helen Diamantopoulo
Julia Powell
Leaflet
Amanda Stones (design)
Helen Diamantopoulo (photo)
Website design
Jack Latimer
Stella Cardus
Amanda Stones (map)
Ian Grant (software)
Co-ordination
Jack Latimer
John Riches
Stella Cardus