One entrance to the Lanes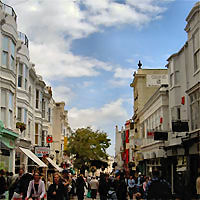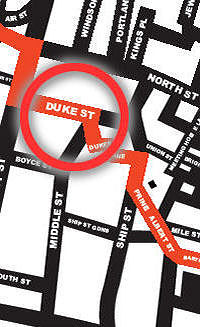 Duke Street is one entrance to the Lanes, the popular name for the Old Town of Brighton. The famous cricket family, the Wisdens, had a sports shop here for many years. It is now a street of high fashion shops and fancy bars.
Victorian horse-buses were diverted up this street because North Street was too steep. This created traffic congestion so the northern part of the street was demolished in a 1870s road-widening scheme.
That's why there are two distinct sides to this street. On one side, there are older bow-fronted buildings, all of different heights. On the other, you can see a uniform terrace of much bigger white Victorian stucco buildings.