Photograph taken by Zoë Woods
Photograph taken by Zoë Woods.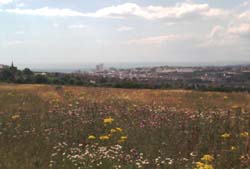 Photograph taken by Zoë Woods
I came over from Whitehawk in 1952. I was in a prefab in Whitehawk and my husband worked nearer here. You could swap your houses in those days. Somebody wanted my prefab, [some other] people wanted a 3 bedroom house and I wanted to come over here so we did a three way swap.
When we came out here it was the newest, nicest estate in Brighton. This estate was more or less built when I came over; it was quite an established estate. I like it because you have got the country. You are surrounded by the Downs and you have only got to go over the top and you have the sea. Before I did my hip in I used to walk to the sea. This is a lovely estate, it's a beautiful estate. I mean I wouldn't want to move for anything.