Memories of the 60s and 70s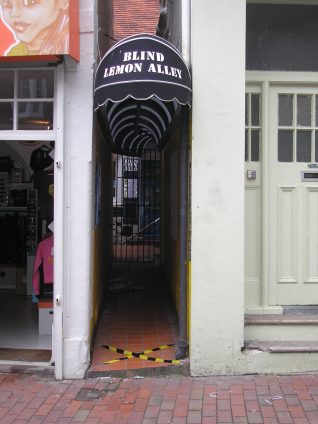 In the 1960's and early 1970's there was a 'cool' coffee bar at the bottom of what is now Blind Lemon Alley (although it was not called so at that time).  The alleyway had no name when hippies frequented 'The Cottage' coffee bar forty years ago.
Blind Lemon Jefferson
I believe that its 'relatively new name' pertains to Texan blues musician 'Blind Lemon Jefferson' (1897-1929) whose life is shrouded in mystery; even his date of birth cannot be confirmed.  Although the name Lemon sounds strange, it was not unusual at that time in Texas.  He influenced many musicians, including Lead Belly, (Pick a Bale of Cotton) additionally, and more relative to The Cottage, Bob Dylan and Van Morrison.
A den of iniquity?
To parents The Cottage was a den of iniquity and drug taking. I don't believe that the phrase 'sex and drugs and rock'n-roll' had been invented, and by today's standards it was actually very tame.  I never witnessed any drug taking there, and probably the teenagers who frequented it, like sex, thought they were the only ones missing out, when in fact everyone was!  I probably spent 2 or 3 evenings a week in there over a two year period, (before I found alcohol and the King and Queen pub) and never witnessed a police raid, although according to parents it happened all the time!

A cool meeting place
Apart from thinking that everyone who went there was very cool, the lure of The Cottage jukebox was prevailing, and the music influential.  At the time most 16-year olds listened to chart music, with hits like Sugar Sugar, by The Archie's and All Kinds Of Everything by Dana firm favourites, but it was music I didn't care for.  My taste was 'progressive music' and this was in abundance in The Cottage!
A taste of the continent
Mainly the group I hung around with drank coffee, listened to the Juke Box and occasionally had something to eat. It was probably in The Cottage that I had my very first taste of continental food, spaghetti bolognaise, which was a speciality.  That was a huge contrast to cooking at home which was very plain English food, bangers and mash, shepherds pie etc.
Remembering the music
The Juke Box had a wonderful selection of progressive music, mostly never played on commercial radio, which was in its infancy.  The 7″ vinyl records on the Juke Box at that time, would by now be collectors items, the whole selection probably worth quite a lot!  It would be good to be able to remember all the tracks; I'll start the ball rolling, who can add the rest?
White Rabbit – Jefferson Airplane!