Deryk Carver's residence in Black Lion Street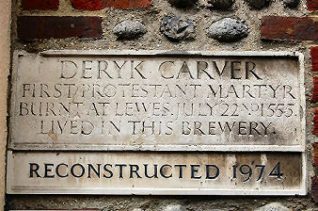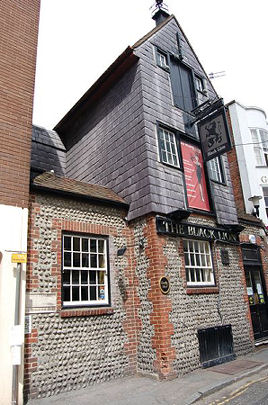 The Black Lion pub looks ancient, but is in fact a reconstruction of part of one of the oldest brewery buildings in the world. Tradition has it that the Black Lion brewery was established in 1546 by Deryk Carver, a Flemish immigrant. Deryk Carver was the first Protestant to be martyred under Mary I.
One night in 1554 the Sussex sheriff, Edward Gage, broke into Carver's home, which was also the brewery, and in an upstairs room found a dozen men engaged 'in prayer, saying the Service in English as set forth in the time of Edward VI'.  As a result, Carver was burnt in a barrel outside the Star Inn at Lewes in 1555, flinging his Bible into the crowd in defiance.
The brewery, with its 54 foot well, was used by various brewers during the nineteenth and twentieth century, but fell into disuse in 1968 and was demolished. The current pub was built in 1974 as a replica of part of the brewery using many original flints and slates.