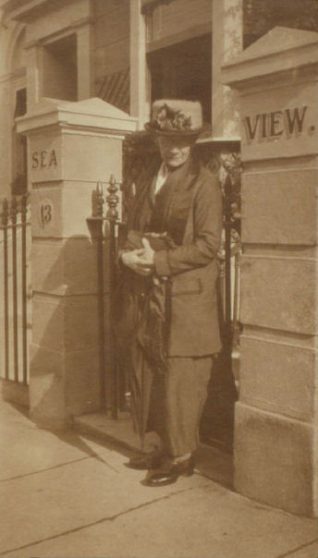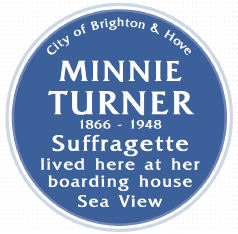 Brighton & Hove Commemorative Plaque panel
Minnie Sarah Turner: 6th May 1866 – 25th March 1948
Minnie Turner, suffragette, was recently commemorated by the unveiling of a plaque on No.13 Victoria Rd, formerly the Sea View boarding house, her home from about 1910, and later also number No.14 where she died. The plaque was proposed by the Brighton and Hove Women's History Group, which, in this centenary year of women's partial achievement of the vote, is campaigning for recognition for local suffragists and suffragettes. It will be the first plaque of its kind in Brighton and is funded by Brighton & Hove Council. Minnie Turner was born on 6th May 1866 in London, later moving to 50 Preston Street Brighton.
Women's Social and Political Union
Turner was a woman of limited means, but became a successful small business woman and activist. She was for 12 years the Honorary Secretary of a branch of the Brighton Women's Liberal Association, and a member of the National Union of Women's Suffrage Societies (NUWSS). However in 1908, frustrated at the Government's refusal to grant women the Vote, she joined the militant Women's Social and Political Union (WSPU).
Suffrage movement hub in the South East
Minnie ran her boarding house as both holiday destination and refuge for suffragettes recovering from imprisonment, hunger-strikes and forcible feeding. She advertised in suffragette newspapers, offering "rest cures", "home made bread" and "meals served in the garden". She kept a suffrage lending library, which was available to guests and local members of the WSPU. Sea View became a hub for the suffrage movement in the South East of England.
Happiest years of her life
After the War, she was elected to the Brighton Board of Guardians and served for 7 years at the Brighton Workhouse. She never married or had children, but was a beloved aunt to the next generation of her family. In 1910, she stated that the years since she joined the WSPU had been the happiest of her life.