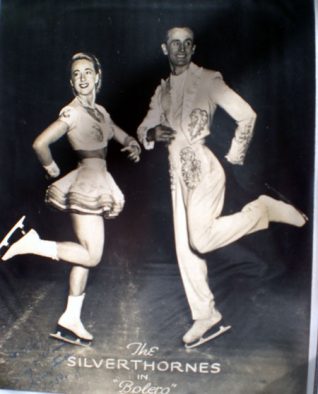 From the private collection of Trevor Chepstow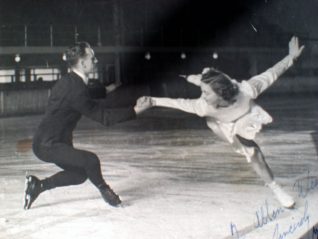 From the private collection of Trevor Chepstow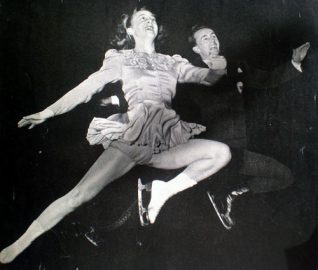 From the private collection of Trevor Chepstow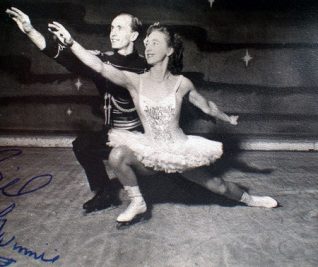 From the private collection of Trevor Chepstow
Dennis Alfred Silverthorne
(born 1st February 1923)
Dennis took his first steps to fame on the ice at an early age at the Sports Stadium, Brighton.  A natural skater Dennis soon passed his NSA tests: Gold Figures, Gold Pairs and Bronze Dance.  His talent was soon spotted by some of the top instructor/coaches of the day (Armand Perren, Edi Scholdan and Arnold Gerschwiler) and the rest is history.
In 1941 he joined the RAF and was demobilised in 1946 in the rank of Flying Officer.
After the war he went back to his first love, ice skating and in 1939 became the British Junior Men's Champion at the age of 16.  In 1947 he came 2nd in the British Men's Senior Championships.  His real talent lay as a pair's skater and his natural partner to achieve the recognition he sought was his sister Winnie.
In the May of 1946 he and his sister went on to win the British Pairs Championship from the title holders; Squadron Leader Leslie Cliff, RAF and Violet Cliff (World Bronze Medallists 1936 & 1937).  In December of the same (1946) year they won the same title again, quite an achievement in the same year.
Well known in the skating world Dennis & Winnie went on to further success by coming 2nd in the European Pairs Championships and 4th in the World Pairs Championships of 1947.  In 1948 they were placed 5th in the Olympics and 6th In the World Championships.  Finally their last competition skating success was in 1949 at the British Open Championships where they came 2nd.
Having turned professional in the July of 1948 he became an instructor at the SS Brighton.  He went on to appear in many of the Brighton ice shows produced by the famous impresario Tom Arnold.  His skating ability took him through many countries and he regularly appeared in ice shows in the Middle East, Italy, Germany, India and Belgium.  He married the Belgium skating champion, Micheline Flon in 1950 and emigrated to Canada in 1963 and set up the Silverthorne Skating School .
A Master Coach he served on the Figure Skating Coaches of Canada board and on advisory committees, leading many training seminars throughout his long career.  One of his notable coaching successes was the 1963 World Champion, Don McPherson.
Dennis Silverthorne passed away in 2004.
Winifred Ellen Silverthorne
(born 3rd March 1925)
With ice skating in her blood she soon followed in the footsteps of the elder brother Dennis and in no time had passed her NSA tests: Gold Figures, Gold Pair and Bronze Dance.  In 1939 she was runner up in the British Junior Ladies Championship.
In the war years Winnie joined the WRNS and became a Leading Wren and as part of her active service was a scientific instrument inspector.
Along with her brother they made a formidable team in the world of ice pairs dancing and were soon talent spotted to become stars.  As luck would have they were trained by possible some of the best instructors of the period, helping them take their first major first championship title in 1946.
Turning professional in 1948 she followed her brother in to show business by appearing in many of the ice spectaculars that were popular at the time.  She was never far away from her home base at the SS Brighton and continued to teach until emigrating to Canada as an instructor.  She went on to great success there as an instructor/coach and was responsible for training the 1987 World Champion, Brian Orser.
Both she and her brother were on equal footing when it came to skating and Winnie never felt her career was overshadowed by her elder brother.  Like the famous quote from 'Ginger Rodgers' about Fred Astaire her dancing partner, Winnie could do everything that Dennis could do and could also do it backwards and on ice!