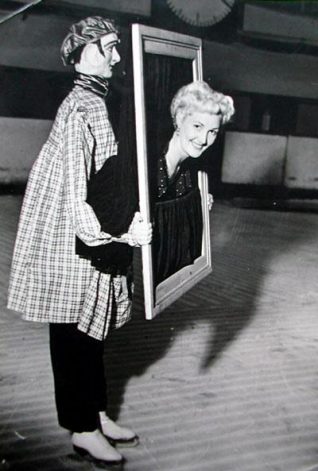 Photo from the private collection of Trevor Chepstow
A popular skater, Jane was a double silver medallist who turned professional in 1941. As head chorus girl, she appeared in most of the shows produced at the Sports Stadium by the famous impresario Tom Arnold and his co-producer Gerald Palmer.
'Ice Circus' of 1951
Jane could be seen practising one of the comedy acts for the preparation of Tom Arnold's "Ice Circus" of 1951. The introduction of summer Ice Circuses at the rink proved very popular with the residents of Brighton. The shows involved tigers, bears, sea lions and a variety of animals, many of which are gone from current circuses of today.
Head chorus girl
Being in charge as head chorus girl was no mean feat as some of the shows contained over fifty girls, many local. Much to the entertainment of regular visitors to the shows, the girls' hair colour would change on a regular basis, mostly to blonde as, apparently, they were paid an extra pound a week if they changed their hair colour to blonde!
Married Alan Weeks
Jane was married to Alan Weeks, who joined the staff as publicity manager after the war. He went on to become internationally famous as the popular voice of sport on television and radio for the BBC.