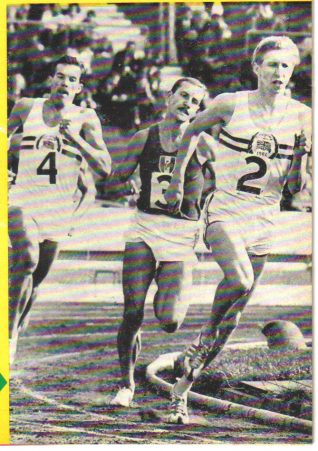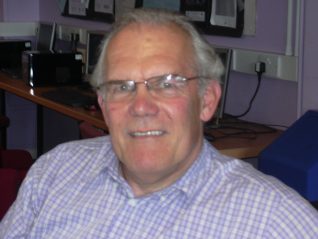 Taking up athletics
It was through school that I took up athletics, joining Steyning Athletic and by joining Steyning got to know other people in the sport. Through a chap called John Harmes, who was regularly beating me over 800m when I was 15 and16, I joined Hove AC. In 1955 Withdean opened and the Brighton Athletic Club moved to Withdean. What had been called Southdown AC run by Mike Langmaid then moved to use the track at the Greyhound stadium and it changed its name at the same time to Hove AC.
Joinjng Hove A.C.
Hove AC was one athletic club, men and women whereas it was Brighton AC and Brighton ladies AC- two separate clubs. It wasn't until 1966 that we amalgamated to form again two clubs because it wasn't actually Brighton and Hove AC-it was Brighton and Hove Ladies AC and Brighton and Hove AC. It was very soon after that that they joined together.
Early Training methods
For a couple of seasons I was at the Withdean coaching course at Easter where you learnt some of the rudiments about how you wanted to get on. I had a book which was the Oxford book of athletics that had loads of schedules in it, and it was through that I got to do the new fangled interval training and repetition running. I really didn't have a coach as such. I would be advised by Bob Webster or whoever would be at the track and at Hove AC there was no specific coach that was mine. I still trained at Steyning on the grass track on the playing field. It wasn't really until 1963 when I was in the international team that I asked someone to coach me. That was quite an anomaly that would never happen these days. I learnt to look after myself. I always remember living at Beeding, the river bank was always a good place to go running. It was quite flat, I was never much of a Downs runner, but running on the river bank was quite a good way of training as well.
Breaking 2 minutes
I left school in 1960 and for about 9 months worked in a laundry in Shoreham, and I was able to do quite a few cross country races. I had parents' encouragement but not the ability to take me anywhere so I got used to catching trains and doing things with other people in the club. I broke 2 mins for the first time in 1958 and I was always looking up to people like Peter Standen who had won the National Schools Championships, and used to run behind him as a junior. I ran2.05 in the Sussex Schools in 1959 and I went to the National Schools where in the heats I broke 2 mins. I remember my grandfather gave me a fiver because I broke 2 mins for the first time. In the final I came 3rd and at that stage was invited to go on a week long course at Lilleshall. That was tremendous because you were being coached by people like Geoff Dyson, and I think John Le Mesurier was there as well. That helped to crystallise the way I wanted to go. In the following year,1960, I went to National Schools as a senior, and John Whetton, a great mate of mine even now, won the race, I came 5th.
Getting to run for G.B.
In 1962 I was the Sussex champion, and at the end of that season, the Commonwealth Games were being held in Perth. Brighton having a newish track, there was a match, the final meeting before most of the athletes went out to Australia.  Because I was Sussex Champion I got a run in the 800m and I came last, and the 5 people in front of me all went to the Commonwealth Games. I wasn't a long way last but I was last. I remember thinking to myself 'I am going to be as fast as you next year'. That was 1962 and in fact in 1963, I not only beat them all but I ended up in the last three international matches for GB.
They're all softies now
When I look a back at some of my training diaries in the 60's it's quite frightening. You go down the track now and tell them to run 4x400m in 52 secs with a minutes recovery, they laugh at you, because they can't run 400 m under 56 secs once. I did cross country and road races in the winter but not tremendous distances. The longest I used to train in that period in the mid 60's was probably 7, 8 or 9 miles but it would be fairly quick. I would train on the track probably five times a week. It would vary from running 600's 400's 200's whatever, mostly by myself although there were one or two (who trained with me) like Ian Wilson who was a lad who came down from Scotland who was quite good and was capable of running 1 51. Lionel Barnden was another. My brother, 5 years younger than me would come over and train as well.
The Tokyo Olympics
Going to the Olympic Games in 1964 was the highlight. It was a tremendously well organised meeting. It was the first one that was truly televised around the world. It was less than 20 years since the war had finished and yet we found that the town, city was well ready. Unlike 4 years later when I went to Mexico when they were planting flowers in the Olympic village as we left. I always remember flying back from this little tour I had done with the GB team to Russia and Hungary and going up to John Le Mesurier, one of the national coaches, and saying 'Look John, I'm in the team, 3rd or 4th fastest runner in the country, I want to go to the Olympic Games. Will you help me?' He agreed. He lived in Surrey and would come and see me once a month. We used to speak on the phone when I could get to a phone, because I didn't have a phone at home. This is when I started keeping a training diary which he would look at and make a few notes in. There was one session we did every year, about the second week in February and it was a session of 8×600 metres with a minute and a half recovery. In that 5 year period you could see that this session of 6oo metre races was gradually getting better. In that 6 years, my best time was run in 1966, although in 1968 I broke the European record for 880 yards at the WhiteCity.
[At the Tokyo Olympics in 1964, Chris finished 4th in his heat in a time of 1 minute 49.1 seconds]
I'm quite impressed by what I was able to do in those days. I go to meetings now in Birmingham or Manchester and they run the first lap in 53 secs, and I think 'I used to run 51 secs for the first lap, and they finish the race in 1min 47  and I think 'I was running faster than that 40 years ago' There doesn't seem to be the will to be the best in the world.
Equalling the British Record
I went off to run for England in this match against East Germany, in East Berlin. [in September 1965]
We had quite a good time. The team was quite good. In fact we beat the East Germans. That's just to show how bad the East Germans were in the mid 60's and how good the England team was. In this event there was a German called Jurgen May. This guy had run some very fast times. In fact it was thought he was going for the world record. The race started, it was quite a nice day, in a very small stadium in East Berlin and the East German no 2  went off very fast and I was hanging on at the back. When we went through the bell, the time was called out in German. I hadn't got a clue what it was. I just kept going, kept going, and suddenly the no 2 East German started to come back and he was overtaken by Jurgen May and John Boulter. I carried on running behind these two guys and as we came round with 150 metres to go, I was catching John Boulter, and I passed John Boulter and  went down the home straight and  overtook May and beat him. I think I ran 1 46.6 .and May ran 1 46.8. This equalled Derek Johnson's British record. Not bad I thought. [Athletics Weekly described Chris's victory as taking him from the fringe of top European class to the dizzy heights of the world's elite]
Winning a fiver
I had a lot of backing from the police. Because of the standard at which I was running I did not have any difficulty in getting time off. Whether they thought it was going to be a short term thing of a couple of years, I don't know. I do remember that if I were to get my annual holiday, summer holiday in July, I was going to finish up using it for athletics. I used to swop it so I got two weeks off in May and then ask for time off. They would give it to me. In 1966 with the Commonwealth Games in Jamaica and the European Championships in Budapest, I worked 11 days in 2 months. That was when I ran my fastest ever mile (at Withdean). This (in 1966) was the only time that a 4 min mile has been run at Withdean. It was won by a chap from Rotherham called Alan Simpson. I don't know how much he got for coming down to this match but I got a fiver for coming from Hollingdean. I thought, 'I hope nobody finds this out'.
[The Alan Simpson Chris is referring to clocked 3 minutes 59.7 for the mile at Withdean in August 1966. Chris who had only arrived back from the European Police Championships at Oslo at 3.30 a.m. the same morning came 4th in a time of 4 min 6.4 secs. This race was to come between 1966 Chris representing Great Britain in the Commonwealth Games in Jamaica where he finished 5th in the Final and the Final of the 8oo metres in the European Games held in Budapest, where he finished just out of the medals in 4th place]
The local athletics press
One of the things about athletics in the 60's at national level and also at local level there was a tremendous amount of publicity. The local papers would have full results. There were lots of pictures and articles in papers like the Brighton and Hove Herald and of course the other paper, The Brighton Gazette. It was a whole page of athletics. Reg Hook used to write most of it. Jack Davies used to write it back in the early 60's. This gave athletics quite an important part of the set up in the town. Now of course you have pages and pages of the Albion and pages and pages of the Sunday league football. Cricket gets a reasonable amount but there are so many other sports, and they all demand that little bit of space.
Getting changed
One of the interesting changes is that you went to a cross country race dressed in your ordinary clothes with your kit in your bag. You got changed in the changing rooms and the presentation was made to athletes with their jackets on and the scarves round their necks in the winter. Now everyone turns up in their tracksuits on. There is no such thing as changing rooms.