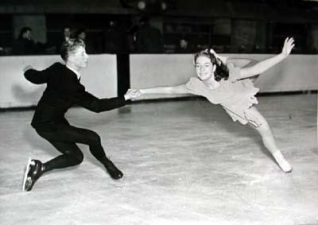 Photo from private collection of Trevor Chepstow
John Allen Wisden Nicks:
Local ice skating champion John Nicks was born on 22nd April 1929 and started his career at the Sports Stadium, Brighton under the instruction of Eric W. Hudson and later Gladys M. Hogg MBE.
His parents were well known Sussex track athletes
John and his sister Jenny Nicks were the children of Jack and Elsie Nicks, who were well known Sussex track athletes. Jack was the great-nephew of the pioneer 19th Century cricketer John Wisden, who gave his name to the famous "Wisden's" Cricket Annual. For many years Jack & Elsie ran the sports shop, Wisdens in Duke Street Brighton.
Army service in 1948-50
After passing his NSA tests (Inter-Gold Figures, Gold Pair, Bronze Dance) John joined up for National Service in 1948-50 as a private in the Royal Sussex Regiment and later the Royal Middlesex Regiment, with whom he went on to serve in Hong Kong.
John and Jenny won many championships
John and his sister Jenny, Brighton's best known amateur skaters, first turned professional in July 1953 in France and they went on to win many ice skating championships together throughout their long and distinguished careers world-wide.
Settled in Los Angeles
John finally settled in Los Angeles in 1961 where his is now (2004) one of the world's leading trainers, his pupils have included many of the world's top champions, including Peggy Fleming, Randolph Gardner and recently Sasha Cohen.
Jennifer Mary Nicks:
Born 13th April 1932, died August 21st 1980
John and Jennifer both shared the same love of ice skating and coming from a sporting family allowed them to turn their sporting inclinations into becoming one of the most successful pairs skating champions of the time.
An instructor before turning professional
Jenny followed the same course as John by passing her NSA qualifications at the Sports Stadium (Gold Figures, Gold Pair and Bronze Dance) and was fortunate enough to be taught by John's tutors Eric Hudson and later Gladys Hogg. Jenny was a popular instructor with patrons at the Sports Stadium in the early part of her career before turning professional in 1953.
One of the best known ice skating couples
Like her brother she appeared in many ice shows world-wide and was British Professional Lady Champion in 1955 and 1956 and third in the British Junior Ladies Championships in 1947. Jenny will be best be remembered for the time she paired with her bother John to become one of the best known skating couples in Brighton and the world.
Jenny passed away in 1980 of a heart attack at the age of forty-eight.
Career History:
John Nicks:
British Junior Men's Champion 1947. (Runner-up the previous year 1946.)
John & Jennifer Nicks, Pairs ice-skating:
– World Champions 1953.
– European Champions 1953.
– British Champions 1947. 1948. 1949. 1950. March 1952. December 1952.
– British Southern Counties Champions 1952.
Other Placings:
– 1946- British 3rd.
– 1947-European 6th.
– 1948-European 5th. Olympics 8th. World 8th.
– 1949-European 6th. World 6th.
– 1950-European 3rd. World 2nd.
– 1951-European 3rd. World 3rd.
– 1952-European 2nd. Olympics 4th. World 3rd.