British and European backstroke champion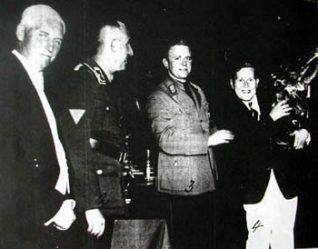 Photo from the private collection of Trevor Chepstow
John Besford, the British and European backstroke champion, won the British backstroke title seven times from 1927-1936. He was a regular at the Olympic size Swimming Stadium pool and a member of the Brighton "Shiverers" Swimming Club.
Most memorable feat
His most memorable feat happened in 1934 at Magdeburg in Germany. Hitler was so confident that his German champion, Ernst Kuppers would win the forthcoming European 100-metre backstroke championship that he intended to congratulate the winner personally. Hitler commissioned a magnificent bronze Eagle, weighing over a hundredweight and standing over twenty-eight inches high. This was to be called the Hitler Trophy and was to be presented to the victor of the race by him personally.
Beat Hitler's champion
John Besford won the race, by a whisker. Hitler was so annoyed and frustrated his champion lost that he refused to present the trophy to the Englishman and stormed out of the stadium. The Bronze Eagle was finally presented to him by one of Hitler's officials and was brought home to England.
A prized possession
The trophy sat on the mantelpiece of his Brighton dental practise in Davigdor Road for many years, although through the war years it was consigned to the loft. On his demise his son, John Besford JR, inherited the Eagle.  John Besford JR is also a dentist and the Bronze Eagle now currently resides on the mantelpiece of his own dental practice in London.