British & Empire Heavyweight Champion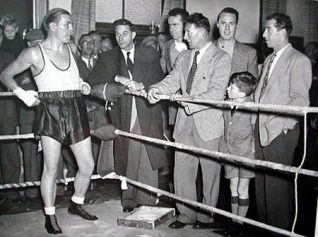 Tommy (Thomas George Paul) Farr. 1914-1986)
Born in 1914 in Clydach Vale, Wales, Thomas George Paul Farr was the son of an Irish immigrant, and one of eight children. His mother died when he was only eight years old and his father when he was eighteen, after a prolonged illness.
According to the records he won his first fight in December 1926 against Jack Jones at Tonypandy over six rounds, making him incredibly only twelve years old. From thereon he was nicknamed "The Tonypandy Terror"
Lasted 15 rounds with Joe Louis
He went on to win the Welsh Heavyweight Championship in 1936 and the British Heavyweight Championship against Ben Foord in May 1937. His finest moment came when he fought the World Champion Joe Louis in 1937 in front of 37,000 people at the Yankee Stadium, New York. Farr lost out on points, but was one of the very few to have lasted a whole 15 rounds with "The Brown Bomber" and his fame was assured from that day on. Tommy will always be remembered for his famous quote; "every time I hear the name Joe Louis my nose starts to bleed"!
A total of 296 fights
Although Tommy Farr was a wealthy man when he retired in 1940, he was facing bankruptcy when he made a comeback ten years later, at 36 years of age. He regained the Welsh Heavyweight title but finally ended his career, 3 days short of his 39th birthday, when Don Cockell beat him in 7 rounds in Nottingham 1953. After his defeat Tommy took the ring microphone and sang the Welsh national anthem – a fitting finale to his career. Welsh-born Farr had a total of 296 fights, a fantastic number by today's standards.
Landlord of the Royal Standard in Queen's Road
He lived in Hove for many years and when he retired finally from the ring, he took over the Royal Standard pub in Queen's Road, Brighton. Farr took an active part in local affairs, being a prominent member of the Sussex Ex-Boxers Association.
Died in 1986
Tommy Farr died on St. David's Day 1986 at Shoreham in Sussex. His ashes were interred in the same grave as his parents, at Trealaw cemetery, under the marble monument he himself had erected for them, with the inscription, ' In Death reunited'.