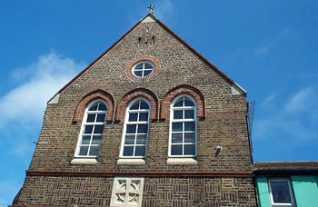 Originally taken for Hanovernet
The Church of the Annuciation was built in 1864 to serve the increasing poor population of Hanover. Aware of the poverty of many of the parish, the Reverend Arthur Douglas Wagner ensured that, unlike many other Brighton churches, no pew rate would be charged.
A school was provided for girls and infants, and a boys' school proposed in Southover Street – the building now used as the Hanover Community Centre.
According to Hilly Laine to Hanover, "An observer at the time [1895] recalls: 'Within half an hour's walk of the fashionable parts of Brighton, halfway up a steep hill from the Lewes road, stands the Church of the Annunciation. The parish is compact, no house within it being more than five minutes walk from the church. Fifty years ago there were only a few houses scattered here and there among market gardens, made on the side of what once formed part of the Brighton Downs. Now there are 16 streets of small, modern houses for artisans; eight streets lie in parallel lines, intersected by the upward road. Many of the houses contain two or more families, while more than one of them are occupied by ladies who devote themselves to work amongst the poorer brothers and sisters.'"
The church's Annunciation window was designed by Edward Burne-Jones and executed by William Morris, in memory of Elizabeth Austin Attree, the first parishioner of the church.