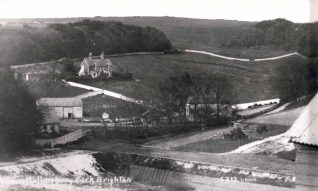 From a private collection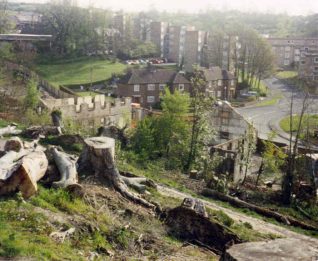 From the private collection of Mr D. Catherall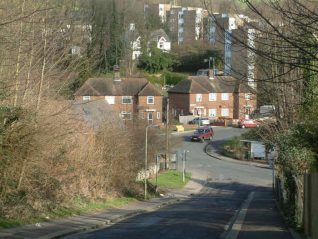 I have kindly been given more information to add to the history of the flint buildings of Lower Roedale Farm at the end of Stanmer Villas. The many local references to 'Roe' in place names came from the ownership of land in the area by William Roe, who bought it as part of the Withdean estate in 1793. Roe's passions included tree planting such as the 'Down Hill Plantation' – the surviving copse behind the flint buildings. The copse running to the side of Burstead Close, known locally by some as 'Jake's Wood' may also be a Roe planting.
The farm and Golf House
The undated photo shows Lower Roedale Farm buildings with Golf House and its distinctive roof, set apart in the fields behind and a chalk quarry in the foreground. The quarry remained after the building of houses and formed the steep bank from Hollingbury Rise West down into back gardens in Stanmer Park Road. Golf House has survived due to being home to a colony of protected bats and is now completely surrounded by housing. The large barn would have stood on the site of the present Lower Roedale Cottages which were built in 1939 as housing for Parks & Gardens employees.
Farmhouse demolished in 1960s
However the Victorian farmhouse screened by trees was demolished in the mid 1960's to allow for the building of Brentwood Road. Although entitled 'Hollingbury Park' this picture could have been taken at a time of change when the first plans for the public park were drawn up in 1901, which included Lower Roedale. After ceasing to be a farm the flint buildings were used as storage for many years as part of the Corporation Parks and Gardens nurseries.
Hurricane damage
The final photo taken in 1991 from the bank behind the flint buildings, shows the scant remains after years of disrepair and the damage of the 1987 hurricane. The ruins were preserved after intervention from the Preston Society and eventually rebuilt in the original style to provide self contained flats.
Viewed in 2007
The view of Lower Roedale in 2007 was taken from Hollingbury Rise West – with the surviving dairy building in the foreground and Golf House in the midst of blocks of flats although happily some copse remains.