Opened in 1987 at a cost of £25 million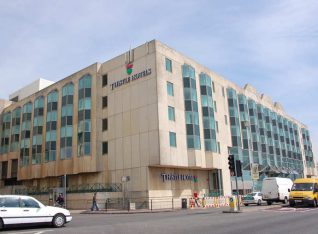 Please note that this text is an extract from a reference work written in 1990.  As a result, some of the content may not reflect recent research, changes and events.
Built in 1984-7 as the Ramada Renaissance Hotel, the 204-bedroom Hospitality Inn was the first major hotel to be built in Brighton since the new Bedford twenty years before, and was the culmination of the upsurge in the town's conference and tourist trade since the opening of the Brighton Centre in 1977. Designed by Michael Lyell and Associates, the Hospitality Inn stands on the site of Harrison's Hotel, several other buildings in King's Road , and parts of Market Street and Little East Street . The obliteration of Market Street has destroyed part of the ancient street pattern of the Old Town and, although much of the site had been vacant for many years, the new building, like the Top Rank Centre some twenty years earlier, has been heavily criticised for its design in a prime sea-front location; the rather plain facade is relieved only by green glass bays which are intended to echo this characteristic feature of Victorian Brighton . It does have a little style, however, and certainly adds to the marine facade in a way in which the Bedford and other developments of the 1960s could never do; it does not, for instance, break the roof line of its neighbours.
Opening in July 1987 at a cost of some £25 million, the hotel has an extremely spacious and lofty atrium foyer, accessible from both King's Road and from Bartholomew Square. This civic square was created at the same time as the hotel, together with the surrounding municipal offices and an underground car-park. The Ramada was formally opened by the Marquess of Abergavenny, Lord Lieutenant of East Sussex, on 18 September 1987 and was awarded five stars for its facilities; Le Pavillon Cafe in Bartholomew Square opened slightly later. In April 1989 the hotel was sold to the Mount Charlotte group and was subsequently renamed.
Any numerical cross-references in the text above refer to resources in the Sources and Bibliography section of the Encyclopaedia of Brighton by Tim Carder.