Seen every morning from my window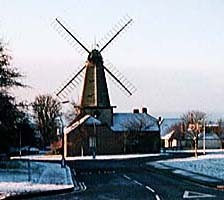 From a private collection
Every morning when I wake up, I look through the window and see the mill. Throughout the seasons I enjoy its beauty, and its surroundings.
Once a year there is a Windmill Day – brass band, pony rides, stalls, corn grinding, Southdown sheep… We have an opportunity to climb to the top and see for miles over the Downs. Local residents, neighbours, families and friends all enjoy the Day. The sun always shines.
John Constable painted the mill in 1825, and it remains alive and kicking.