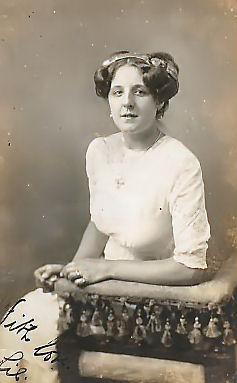 Photo provided by Jean, Lilian's Grand-daughter
This is Lilian Victoria, who at one time was the landlady of the Windmill pub. She was born illegitimately in May 1887 in Scotland Street, Brighton. When her mother married, she took her stepfather's surname – Romaine.
Lilian married Harold Davis in December 1907. From what we can gather, he was already running the Windmill. It doesn't appear that he did so for long, though, as Kelly's 1905 Directory shows the licensee as an E. Holloway. Lilian and Harold had two sons, both born in the Windmill: Harold Jr. born 1908 and Eric Granville born March 1910.
When Harold died at the end of 1910, aged 28, Lilian continued to run the pub. Kelly's 1911 Directory shows her as the licensee. However, only five months after Harold's death she married Bertram Andrews (my grandfather). She obviously didn't believe in letting the grass grow under her feet! Bertram had been lodging at 63 Upper North Street, so was probably one of the pub's regular customers.
Bertram was a stationery salesman, but Lilian seems to have continued running the pub until their daughter was born in May 1912 (that was Irene, my mother). From then on things get a bit murky, as family stories indicate that my dear old grandad started going through the money made from the pub. Around 1914/15 they both took off for Canada, leaving the three children behind with their grandmother. None of them ever saw Lilian or Bertram again – the original dysfunctional family!
Some contact must have been kept up over the years, though, as we know that Lilian and Bertram settled in West Hill (now part of Toronto) and had three sons. In later life Lilian had a leg amputated, due to diabetes, and died in Toronto General Hospital in February 1954, aged 66.