Air raid shelters and evacuation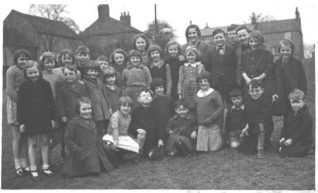 Photo from private collection of Eileen Franchi
"I had just had my 7th Birthday when war was declared in September 1939 and was attending St. Mary's C of E School in Mount Street, Brighton. I don't remember a great deal about lessons, (other than we had to attend St. Mary's Church opposite my home on Thursday mornings), because we had to spend more and more time in the air raid shelter which was in some caverns beneath the Rock Brewery at the bottom of the road.
A strange place to shelter children
What a strange place to shelter children, all those glass bottles and beer!! It was quite an exciting adventure, though I think we felt a little apprehensive. It appeared vast and 'cavernous' – sorry no other word for it. We had to pass bottling machinery down some stone steps (I think they were cut into the rockface, but can't be sure about that.) It was quite cold and there was a strange smell – the beer of course – and clanking of the bottles. I can't remember what we did while there, but imagine the teachers found us something to do with lessons until the 'all clear' sounded and we all returned in 'crocodile' to school once again. When the Brewery was demolished the caverns were re-discovered.
Our shelter in the basement
My own home in St. James's St. opposite St. Mary's Church had its own approved shelter. We had a basement and the staircase down to it was reinforced with heavy timber framework. We all sat on the wooden stairs when the siren sounded, even in the middle of night. The other local shelter was on the opposite corner of St. James's St and Upper Rock Gardens where the basement of the Off Licence on the corner had been turned into one for the general public.
Brighton – a dangerous place to be
It was decided that Brighton was a rather dangerous place to be because the German planes were dropping bombs on the way to and from London, and flying in low over the sea and firing into the streets. I remember watching 'dogfights' high up in the sky between the Spitfires and the German planes on the way home. A bomb dropped at the top of Upper Rock Gardens when a little friend of mine was badly injured and also on the Odeon Cinema in Kemptown on Saturday 14th September 1940 when fifty-five people were killed. The beach had been mined and was full of barbed wire to keep people off.
Tearful evacuations
So parents were given the chance to send their children to a safer place and I became an evacuee with a group from our school and others who were shunted off by steam train with our labels and gasmasks and a change of clothing. Some were very tearful, but to me it was just another home and a great adventure as it turned out. We arrived at our destination, which turned out to be Harrogate, in the dark, where we spent the night in 'dormitories' in a large Hotel which had been commandeered to receive us. Next day were were bussed to our final destinations..
Eileen goes on to describe her vivid memories of staying on a Yorkshire farm as an evacuee. Visit her website for the full story.
……In August, 1943, I returned to Brighton to attend Varndean Grammar School for Girls and the last years of wartime and rationing and the final break-up of my Newman family. Things were never the same again."