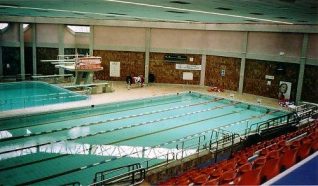 Used with permission from D.C. Leisure Ltd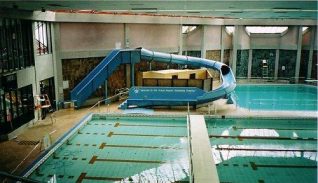 Used with permission from D. C. Leisure Ltd
I thought I would add some pictures of the Prince Regent Pool and some information that I have learnt whilst swimming there.
Location and teams
The pool was built in the 1970's to replace the pool that was closed in the town. It is situated around the corner from the historic "slipper baths". It is also just across from the new Library, which will hopefully mean that a few more people pay attention to the fact that pool is there. The pool is one of the busiest pools in the South East, owned by the Council but managed by a separate company. It is used by two swimming teams, the "Brighton Swimming Club" and the "Brighton Dolphin Club", and the Lesbian and Gay Sports group hold their swimming meetings there. It also has weekly sessions for the over 50's and for women only.
Here are a few things you might find interesting:
The centre walk way in the middle first quarter of the pool is removable, I am told, though I have never seen this happen.
I am also told there used to be a second tier on the diving boards, which was removed for safety reasons.
The pool offers swimming lanes, as shown in the photos. One of the unique aspects of the pool is that it offers a slow lane, a medium lane and a sprint lane, whereas most pools only offer two lanes. In the past the signs at the end of the pool had approximate times on them. This often led to arguments as 'approximately 20 secs a lap' could result in a swimmer doing 18 seconds a lap swimming alongside someone who was doing 28 seconds.
There is a training/baby pool behind the main pool (this is not shown in the photo).
There is a gym above the clock which looks down on the pool.
The yellow hut surrounded by the water chute is the sauna.
The pool is one of the few pools (if not the only pool in the South-east) to offer single sex showers, that are not viewable to the general swimmers. However, you are politely requested to keep your costume on. My Scandinavian friends find this "very British" because in their public pools you are required to wash naked first, put on your costume, swim, and then wash naked again. You are also not allowed to wear shorts in Swedish pools, again for hygiene reasons. The showers are separate to the changing rooms and you have to walk through a unisex locker room. People who have forgotten this, or didn't see anyone when they changed, have walked out naked from the shower into the changing room and caused a bit of embarrassment.
The pool shuts for the first two to three weeks of December for maintenance.
The pool is cleaned by a robotic vacuum (which is off-shot of the left hand corner of the photograph).
The main pool is 25m in length.