Builders with delusions of grandeur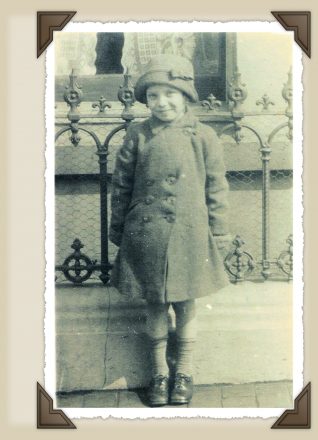 From the private collection of Brian Dungate
Supporting the war effort
It is well known that decorative iron railings were removed during WWII, allegedly to support the war effort. Although it is relatively easy to find photographs of what one of the more privileged squares and terraces looked like before they were removed, it is more difficult to find them for other streets. The photograph alongside, taken in April 1939, shows the youngest of my three sisters, Edna, in front of our house in Coventry Street, in the Prestonville area of Brighton. It is easy to imagine how different the whole street would have looked then, since all of the houses had similar railings. They were probably removed in the autumn of 1942.
Pretensions of grandeur
Although many of the streets in Prestonville have terraced two-up, two-down houses they must have had pretensions of grandeur when built. In Coventry Street, the elongated doorstep areas of the houses on the east side had attractive multi-coloured geometric-patterned tiles and, astonishingly, every room had a push button to summon a maid, who – had there been one – would have seen where she was required to go on a large mechanical display board in the kitchen, which was 'below'stairs'.
Where would the maid have gone?
Where the original developer considered there would have been accommodation for a resident maid within the house, or who among the prospective buyers could have afforded or would have wanted to employ one, it is difficult to imagine. In contrast to this indication of the developer's pretensions, for houses on the west side of the street the box-framed toilet access was via a door in the small rear backyard garden. Those on the east side had an inside loo and, later in many cases a bathroom converted from a bedroom on the half-landing level.
Definitely not luxurious
Those reading this today might imagine that a converted 'bathroom' of the time offered luxury. In fact, where they existed, they had a large copper gas-fuelled geyser and a basic white bath. Few people used them, even if they had one, because the houses had no central heating, of course.
Heating only at Christmas
Other than at Christmas, we never had any heating whatsoever in any room other than the kitchen. That room was small and virtually entirely filled by a large black kitchen range (which also served to  heat the room as well as flat irons for ironing), a dresser, a large white 'butler's sink', which was also used for washing clothes by hand, and a table, where, in our case, our entire family of six ate.
Bathing in the kitchen
There was no room for a mangle, which was in the back garden, alongside a large metal 'bath', hanging from a hook on the wall, which was taken into the warm kitchen to use when the converted bathroom was too cold to contemplate using. Coal or coke, delivered by the coalman in hundredweight (50 kilo) sacks had to be carried through the house and stored in a backyard shed next to a backyard larder where perishable food was kept.
Unwelcome guests
It should also be added that we also unwillingly shared the house with mice, which had free run of the terraced housing, and against which mouse traps were an ineffective weapon. In any case, these required precious cheese, which was a staple evening meal for as long as the ration allowance held out.
Electricity supply
All rooms had provision for gas lighting to be used, but, unlike many neighbours, our house had been subsequently wired for electricity. It could be used for little more than lighting however, since most of Prestonville had a DC power supply until well into the 1950s. Refrigerators, washing machines and record players were out of the question before AC power was laid on, even if one could have afforded them as Britain slowly recovered in the 1950s.
Yet for all that, you only need to look at the photo to see a shy but happy young girl and, indeed, we were a happy family. You don't need luxuries in life any more than you need railings to be happy.