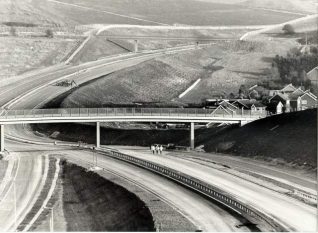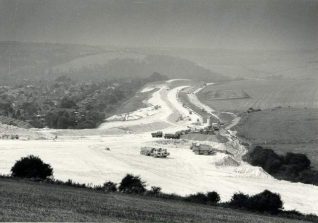 Please note that this text is an extract from a reference work written in 1990.  As a result, some of the content may not reflect recent research, changes and events.
A ring road 'to assist in the distribution of traffic and to relieve congestion in the town centre' was first suggested by a planning committee in 1932, and was proposed again in the town's 1958 development plan to include Mill Road and Coldean Lane.
In 1973 six routes for a new east-west road, including downland and urban options, were identified for public consultation; the following year the Department of the Environment effected planning protection on a downland route. It was not until 1980, however, that the Department published a draft bypass route. A 97-day public inquiry into both the need for the new road and its route commenced in March 1983 (one week at the Hotel Metropole and then at the Wagner Hall), and was followed by a 10-day inquiry in January 1987 at Dorset Gardens Methodist Church.
The route of the new 8.5 mile road, which will cost at least £60 million and consume some 500 acres of land, was fixed to run along the fringe of the urban area from the Shoreham bypass, just west of the Kingston roundabout, to the Lewes Road at Stanmer Park; junctions will be provided with a new Benfield Valley link road; at the Devil's Dyke Road/Mill Road crossroads; at London Road/Mill Road/Vale Avenue; and at Old Boat Corner. Twin 400-yard tunnels will carry the carriageways beneath Southwick Hill. The bypass, to be part of the A27 Folkestone to Honiton trunk-road, will be an all-purpose road with dual two-lane carriageways, except for the section between Devil's Dyke Road and London Road which will have three lanes either way. Another inquiry is still required for the change of route at Southwick Hill.
On 2 April 1989, Brighton Pavilion M.P. Julian Amery formally cut the first turf of the Brighton and Hove Bypass in the Waterhall Valley. The first section, from London Road to Devil's Dyke Road, is scheduled to be completed in mid 1991, with the whole route finished in 1995; construction of the second section, from Devil's Dyke Road to Hangleton, commenced in June 1990.

Any numerical cross-references in the text above refer to resources in the Sources and Bibliography section of the Encyclopaedia of Brighton by Tim Carder.
The following resource(s) is quoted as a general source for the information above: {123}