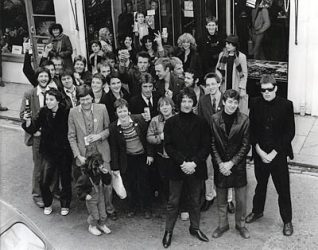 From the private collection of Jay Derrick
I lived in Brighton between 1971 when I arrived as a student and 1981. You may be interested in the following site: www.punkbrighton.co.uk which charts the vibrant musical scene in the Brighton area in the late 70s and early 80s.
Practicing in the vaults
This scene was partly based around the Brighton and Hove Community Resource Centre which used to occupy the site of the present day community centre at the top of North Road. Many of the bands kept their equipment and practiced in the vaults underneath the centre, which had people buried in the walls!
Attrix records
Three albums of Brighton bands were produced, called Vaultage 78, 79 and 80, masterminded by Rick Blair, a musician who worked at the Resource Centre for a time. He ran an independent record label and a shop, called Attrix Records, which was in Sydney St, until about 1982. It's a bookshop now, a couple of doors down from the Green Dragon pub. Sadly Rick died about 3 years ago. Anyway, a lot of this history, including posters and pictures, can be found at the punkbrighton site.
Local members
I also attach a picture of Attrix band members outside the shop, taken in about 1978, about the time the first album came out. The bands represented here include the Lillettes, the Parrots, the Chefs, the Vandells, the Mockingbirds, the Golinski Brothers, and probably others. Rick and Julie, his wife, are standing in front of the middle-aged female shopper back left.
Local pub venues
Many of the bands used to play at pubs like the Hanbury Arms, the Richmond, the Concorde which was on the seafront right opposite where the Athina B ran aground, and particularly for me the Alhambra, where during most of 1977 and 1978 the Piranhas used to play every Sunday night. I used to work at the Friends Centre in the Lanes, an adult education centre still going today.
This site is great
I'd like to see more about both the Resource Centre and the Friends Centre in your site. I will try to contribute stuff when I can. I'm amazed there's nothing yet about the Belvedere and the Fortune of War, two pubs right down on the beach between the two piers. This site is great!