Fords Ferry circa 1920 and Iron Boat Man 2006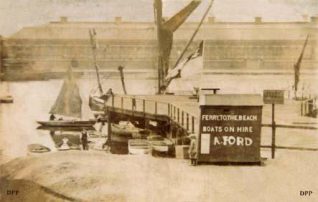 From an original in the Ernie Charman collection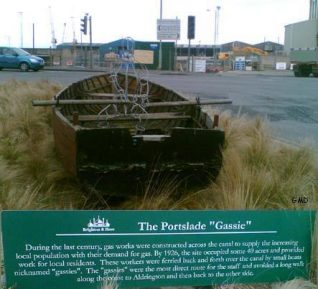 Mix of two views by Gordon Dinnage
Small ferry
For many years there was a small ferry across the canal at Shoreham Harbour in Portslade. This ferry operated from a spot near the foot of Church Road and Trafalgar Road. The ferry could take people across the canal for a penny return, as a short cut to the beach or as a means for employees to get across to the Portslade Gas Works, which was built in 1870.
Additional access
Back in 1854/5 the eastern arm of the harbour was dredged and canalized, and a lock was built at its entrance at Southwick as another crossing point. The western arm remained subject to tides, being the outflow of the river Adur. There was, and still is, other access to the beach and industrial parts of this Shoreham Harbour, via Hove Lagoon (also known at one time as 'Salt Daisy Lake') by passing the Seaside Villas (latterly known as Millionaires Row), where the single roadway winds its way around the southern eastern arm.
Historic view
In our restored historic view here, the Gas Works and Coal Wharf can be seen in the distance with a number of small boats in the foreground. The ferry appeared to have stopped operating some time in the sixties. Simple signage painted on the side of the jetty shed shows the operation at that time was by 'A. Ford'. The sign 'Ferry to the beach' and  'Boats on Hire' are also seen.There was another jetty east of this one, next to Parkers Junk Yard, also described as the use of mooring Gas Works Workmen's Boats. Yet further east was the Hamlins Ferry too, although what period this operated is unknown by the authors of this piece. Maps of 1910-1920, however, helpfully show all three jetties in existence.
The historic picture was first shown in the Brighton ARGUS Weekender 1/1/05, following a reader's letter query about the metal man rowing a boat in memory of the ferry on the north-east corner under the billboard which is used in our second picture for the present day. The old original Ferry picture – in a torn and poor condition – came from the collection of Ernie Charman of Portslade Old Village. Ernie has taken many transport and local scenes himself over the years since the mid forties and collected a variety of photographs and postcards of a variety of interests.