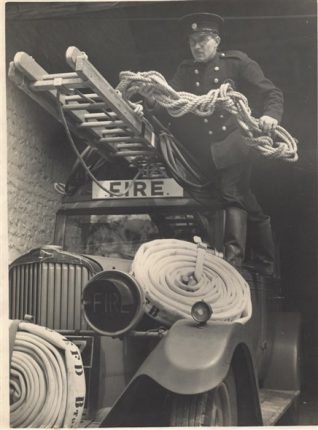 From the private collection of Georgie Hole
Bomb 25th May 1943
Prior to the outbreak of war,George joined the Auxiliary Fire Service, which became the National Fire Service in 1941. He had the dubious honour of a narrow miss from the bomb which took out part of the railway viaduct 25th May 1943. He said he came out of a back building of fire service premises (now Carter's) in Preston Road, heard the plane and ducked.
Damaged viaduct arches
He then saw that all the garden walls had been clipped with a half moon shape out of each one. His memory of the incident was that the bomb, by a complete fluke, then went in through the basement of a house in Argyle Road, out the back, hit the back sunken area, and was deflected up to damage two arches of the viaduct.
Possible German invasion
One of the early jobs of the AFS was to cut off the landward ends of the Palace and West Piers, as it was considered that the Germans might use the them as landing places in the event of an invasion. George, always sticky fingered, liberated a huge bolt from the Palace Pier 4′ long, 2" wide and weighing over 20lb; to use as a very useful "rammer" for building and garden projects. It still survives to this day in excellent condition, a tribute to Victorian engineering. It must have been a very tough job to dismantle such heavy duty ironwork.
George's 'sticky fingers'
He came unstuck, though, when a plane came down at the back of Patcham in 1944. He and his fireman brother -in -law Sydney Wilson, were on the scene early.  Ever fascinated by new engineering challenges, they took it upon themselves to liberate the machine gun, in order to dismantle and see how it worked. Unsurprisingly, the authorities were not amused, and it had to be given back.
Read Part III here