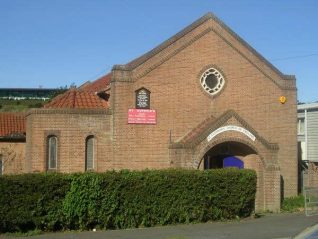 Photograph by A. Bilangel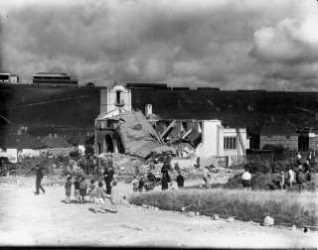 St Cuthman's Church was built in the 1930s to meet the spiritual needs of the people who were being moved from inadequate housing onto the Whitehawk estate.
Rebuilding
People remembered that the Church was white but during the Second World War the church building was bombed. Significantly sticking out of the rubble was the large crucifix which had hung inside the church at the front. This was subsequently put into the next church building which was completed in 1952 and dedicated in 1953.
It is sometimes called the Children's Church as local children saved pennies towards its cost.
Other services
The church seeks not just to meet the spiritual needs of the people in the area but also provides other basic services. In 1987 a 'drop in' called the Light Centre was opened.
This Centre gives counselling and bereavement support services. There is a team of workers who are always willing to listen and give personal support and referrals if appropriate. The Centre also functions as a food store. The Centre became a registered charity in 1991 and now employs a part-time family support worker.
The current ministry team are:
Rev John Wright, Rev David Porter and Reader Jenny Peleg.
"St. Cuthman's Church was originally erected in Lintott Avenue in 1937, but was destroyed on 16 August 1943 by a German bomb with a church-warden buried alive. The new church was built in 1951-2. The church hall was sold to the community association in 1982 to become the Valley Social Centre. St David's Mission Hall, still standing at the junction of Whitehawk Road and Whitehawk Way, was used before the church opened, and was later used by the Whitehawk and Manor Farm Boys' Club".
Excerpt reproduced with permission from the 'Encyclopaedia of Brighton' by Tim Carder (1990)