Born in the vicarage in 1931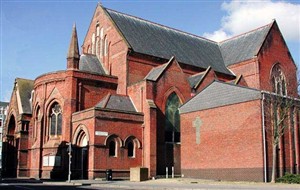 From a private collection
I was born on 11 January 1931 at the St Mary's Vicarage at the bottom of Rock Gardens.  I had a sister 12 years older and a brother 10 years older.   Not long after (I think) we moved to 100 Edward Street where we had a connecting door to the St Mary's Church Hall of which my mother was caretaker. I remember that I learned to knit at six years old at a St Mary's Mothers' Union Meeting.
Childhood memories
During the 1930s my father owned what was called a charabanc which he parked on the sea front and took people for rides in the countryside for half a crown (2s 6d in old money).  That was during the summer of course, and during the winter he was a sign-writer, painting pub signs and scenery for the local shows.  One instance I particularly remember, although only six years old, was 5th November 1937 when my mother asked my brother to let off some fireworks in the backyard for me.  But as I watched, a penny banger  went off in my brother's hand and blew the complete top joint off the middle finger of his right hand. I can remember to this day, 70 years later, him coming through the kitchen with our father to go to the Sussex County Hospital.  Since then of course he had no top joint to the middle finger of this right hand.
Starting school
I started school at 5 years old at the Park Street Mixed Infants in Freshfield Place.  I can't remember much about that time except that I broke my right ankle on the swings in Queen's Park wearing a Red Indian suit my sister had given me for my birthday.  A trip to Sussex County Hospital to set it in plaster and I was then back riding my three wheeler.  After about four years there I started at St Mary's School in Mount Street with Ogdens Bakery on one side and a brewery on the other.  The brewery was used by the school as an air raid shelter when the sirens went.