History of a "little church"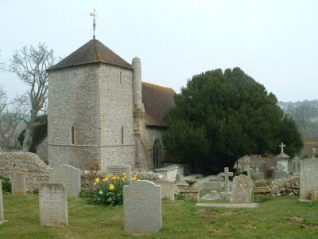 Early Norman origins
St Wulfran's is a typical small Sussex downland flint church, recorded in the Domesday Book of 1086 as a "little church". Essentially it is an early Norman building which has been restored and altered many times over the centuries; it is now furnished in late 19th century style.
The nave and chancel of today's St. Wulfran's are probably 1066-86 or a little later. The tower is c1216 and contains a bell which dates from approximately 1430. It is thought that the porch was almost certainly added in 1805. The chapel was added in 1907 and the vestry was built in 1983.
Architectural modifications
There are no less than 33 existing, blocked and 'vanished' windows in St. Wulfrans and there may have been at least six others. The original Norman windows were blocked up when the existing larger windows were made and not reopened until after 1850. The present entrance is in the south wall but there is a blocked saxon-style door in the north wall with a stoup (a container for holy water). Most probably this was the entrance when the original manor and village were situated in 'Hog Croft' (the field next to the church).
Interior decoration
The rood, chancel ceiling and most of the stained glass in St. Wulfran's are by Charles Eamer Kempe (he added the 'e' in later life). His father Nathaniel Kemp, uncle of the Kemp who built Kemp Town, a very wealthy man, built Ovingdean House.
At the moment there is an ongoing fundraising project in the village of Ovingdean to raise over £20,000 to fund the restoration of Kempe's ceiling which has fallen into disrepair due to damp. The church, which from time immemorial has been the hub of the village, remains an important focus for the village community today.
A literary reference
Harrison Ainsworth, the famous novelist who lived in Kemp Town but worshipped regularly at St. Wulfran's, mentioned the church in one of his most well-known books, Ovingdean Grange. Although Ainsworth's tale of the visit of Charles II to The Grange is highly romanticised and certainly unhistorical, his description still rings true today:
"Time has dealt kindly with it, and touched it with a hand so loving and tender that if he has robbed it of aught, he has only added to its beauty. Peace rests upon this antique little fane, and breathes from out its hoary walls. Peace rests upon the grassy mounds and carefully tended tombs lying within its quiet precincts. Nothing more hushed, more sequestered, more winningly and unobtrusively beautiful can be conceived than this simple village church. The walls that surround it and shut it in like a garden, the trees that shade it and completely shelter the holy edifice of the north, give it a particular air of privacy and tranquillity."