A well loved seafront landmark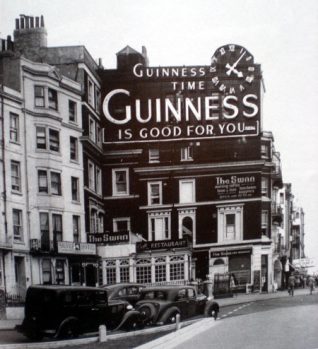 From the private collection of Trevor Chepstow
As a young lad living in Russell Square in the fifties I remember the Guinness Clock very well.  Never a day went by when someone didn't look up at it to confirm the time and I'm sure visualised a tall glass of the black stuff!  That included me, although it would be many years before I would be old enough to taste it legally!
After school job
My part time job after school was delivering groceries for a shop at the top of Russell Street owned by Jim & Molly LaCroix.  My clearest memories of the clock was on dark winter evenings when my grocery round took me to the Guinness Clock for deliveries.  There I was confronted with a massive stairway where I had to tramp up nine or ten flight of stairs to deliver the produce to a customer at the top.
Flashing neon lights
The fascination of the clock has never dimmed from my memory as I always remember the neon lights flashing into the apartment whilst I waited for my tip (normally six pence) for delivering the groceries.  The apartment concerned was directly behind the large Guinness wording on the clock photo.
Demolished in the 1960s
Unfortunately I have no idea when the clock was erected, but it was demolished in the early sixties I believe to make way for the Brighton Centre and Top Rank complex.  The houses to the left of the clock on the Kings Road were featured in the well known 1947 film, 'Brighton Rock', starring Richard Attenborough and Carol Marsh from the book written by Graham Greene.  These were also demolished somewhere around the mid-sixties.
The west facing wall of the Brighton Centre is approximately where the Guinness Clock stood and the houses to the left now form part of the Grand Hotel.