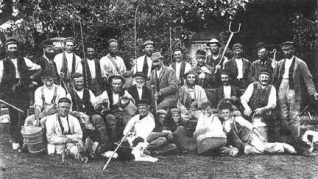 From the private collection of Jennifer Drury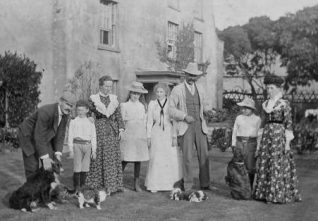 Kindly loaned by Mrs Curtis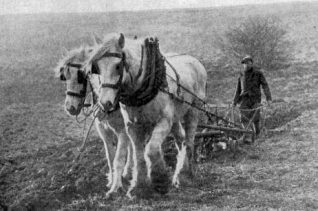 From the private collection of Jennifer Drury
The first written information on the village is in the Domesday Book of 1086. At this time the majority of Ovingdean was held by Godfrey de Pierpoint. He was the son of a Norman commander who had fought with William the Conqueror. The manor estate, held by Pierpoint was approximately 1,076 acres: arable land near the manor (now known as Ovingdean Grange) and pasture for sheep on the downs.
Eastern estate
The eastern estate of Ovingdean was held by Saxons, and was 554 acres. It is interesting to note that this division of Ovingdean into two separate estates continued for over 700 years.
The Lords of the Manor
It is quite unusual in that from approximately 1170 until 1987 , that the Lord of the Manor, who owned the Grange and its farmlands, did not live in the village. Instead, the farm and farmhouse (The Grange) were leased to tenants who then farmed the land. We know of the ownership of the manor estate from 1066 until today from legal conveyances and church documents. But, it is not as easy to determine the tenant farmers and so our knowledge in this respect is patchy.
Recent tenant farmers
In more recent times we know that from 1877 until 1945 the Cowley family lived in the Grange and farmed at Ovingdean. In 1945, Frank Baker, who was once Mayor of Brighton, moved into the Grange and took over the farm. David Baker still farms at Ovingdean today, but the Grange was sold by Brighton Council who owned the land, and is now in private hands.
Farming methods
The highly mechanised type of farming which is carried on in Ovingdean today is a far cry from that of the hard manual work that was involved when the Cowley family worked the land. In the group photograph here, you will see William Cowley (centre holding a gun) with his 21 farm hands and 4 farm boys. Incidentally, William Hollands, who is standing first on the left, was the father of Miss Laurie Hollands, who at 94 years of age, still lives in Ovingdean.
Farming was hard work in the 19th century
Haymaking in the late 19th century, as the photograph of William Cowley and his men shows, was very hard work and required a lot of man power. Even as late as the 1930's, as the photograph of Mr Frank Harris of Ovingdean shows, ploughing on Grange Farm was done by man and beast and was a very highly skilled operation.