Built by Nathaniel Kemp c1792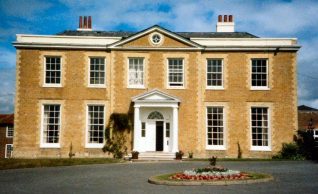 Kindly loaned by Mr J G Davies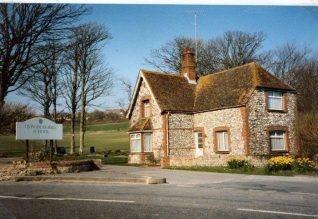 Kindly loaned by Mr J G Davies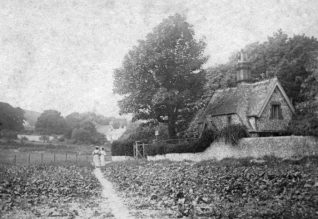 Rottingdean path. In approx 1921 this was made into what is now known as Ainsworth Avenue." alt="The lodge of Ovingdean Hall - c1900 - the 'white' path in the foreground was the Ovingdean to
Rottingdean
path. In approx 1921 this was made into what is now known as Ainsworth Avenue. | Kindly loaned by Mr J G Davies of Ovingdean" />
Kindly loaned by Mr J G Davies of Ovingdean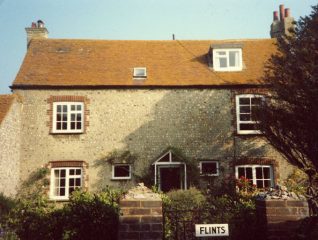 Kindly loaned by the owners Mr & Mrs J G Davies of Ovingdean
In 1788 Nathaniel Kemp, then aged 27 years, bought a block of 350 acres in the centre of Ovingdean parish. Records tell us that at around this time Ovingdean was a hamlet containing one medium sized yeoman's farmhouse (now The Grange), in which six rooms had fireplaces; a 'mean thatched rectory' and some labourer's cottages.
Brighton – a fashionable resort
Brighton on the other hand was fast becoming very fashionable due to the interest of the Prince of Wales (later George IV) who had leased a farmhouse in 1784 and later converted it into today's Royal Pavilion in 1786-7. Nathaniel Kemp was the uncle of Thomas Read Kemp who founded and built Kemp Town.
The Kemp family and Ovingdean Hall
Kemp built Ovingdean House, as it was then called, in the spring and summer of 1792. The builder's estimate, which is in the Victoria and Albert Museum, states that the price would be '£2653-10s-0d an there abouts as nigh as I can tell'. Nathaniel Kemp also built a farm complex close to the house; this was farmed for him by a bailiff who lived in the house now called 'Flints' but then known as 'the bailiff's house'.
Charles Eamer Kempe
Kemp's first wife died childless in 1821, but in 1823 he remarried a woman 41 years his junior and proceeded to father seven children between 1824 and 1837. One of his children was Charles Eamer Kempe (1837-1907) who was the renowned Victorian stained glass artist and church decorator. A great deal of his work is in St. Wulfran's Church Ovingdean.
A young gentlemen's school
Nathaniel Kemp died in 1843 and the house was then let out until Elliot Macnaghten, retired Chairman of the East India Company, bought the estate in c1858. Macnaghten died in 1888 and the estate was bought by Mr. F. Charsley who open 'a young gentlemen's school' in 1891. At that time it contained 13 principal and four servants' bedrooms. The name was changed to Ovingdean Hall and by 1897 many extra school buildings had been added. In 1910 most of the field adjoining the house (c323 acres) were sold leaving the school and the buildings originally constructed as part of Kemp's farm.
Brighton Institution for the Deaf and Dumb School
The preparatory school lasted almost exactly 50 years until 1941 when it moved to Devon because of the war. During WWII the Canadian Army and its tanks took over the school and its grounds. In 1945 the hall and its walled grounds, covering approx 26 acres were sold to the 'Brighton Institution for the Deaf and Dumb School'. The institution opened a school for deaf and partially hearing children in 1947. Today the school provides secondary education for hearing impaired children from 10-16yrs and also offers further education opportunities for up to 19 year olds.
Tiles and tales
Ovingdean Hall is a Grade II listed building; its front is covered with yellow mathematical tiles. The sides were originally also tiled but when they began to rot, permission was granted in the 1970s to remove them. It has a wide porch with Doric columns and pediment; it is two storied and has a cellar.  There is an unproven story that the Hall was used for French prisoners during the Napoleonic wars of 1793-1815, but there may be truth in the belief that it was used to house Russian prisoners in the Crimean War c1853-56.