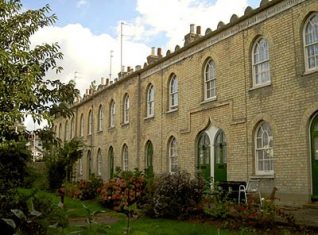 These are the oldest buildings in Hanover. They were built in three stages.
The first six almshouses were built in 1795 by Mrs Margaret Marriot, to commemorate her friends Dorothea and Philadelphia Percy. They were to be occupied by six poor widows who were members of the Church of England.
Over sixty years later, in 1859, another six houses were added by the Reverend Henry Wagner. These were for six 'poor maidens'.
By 1971, the almhouses were in bad condition, and only one was occupied. The Trustees of the houses wanted to demolish them, but they became listed buildings in the same year. With the help of Brighton Council, the houses were restored five years later. New kitchen and bathroom extensions were built at the back of the houses, and the interors were redesigned.