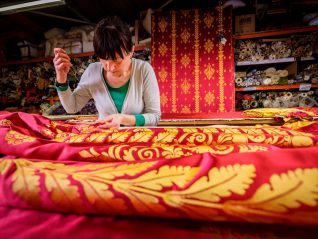 Royal Pavilion and Museums Brighton & Hove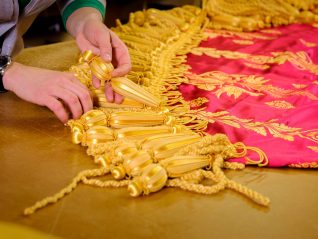 Royal Pavilion and Museums Brighton & Hove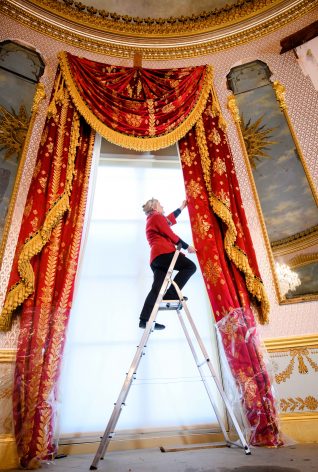 Royal Pavilion and Museums Brighton and Hove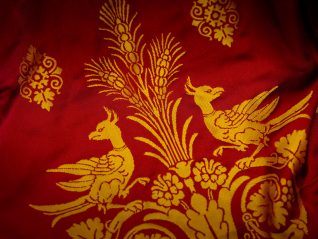 Royal Pavilion and Museums Brighton & Hove
A sign of great wealth
The luxuriant silks used in the wall panels and the drapes were a key feature of the Saloon's 1823 magnificent decorative scheme. They were chosen to show visitors from around the world, the great wealth and importance of the Prince Regent.  Of course, during the Saloon restoration, it was vital that the colours and design of the silks reproduced were historically accurate.
His Majesty's Geranium and Gold
At first, all historic textiles expert Annabel Westman had to work with, in 2012 , were images from John Nash's, book `Views of the Royal Pavilion', which included a watercolour of the saloon by A.C.Pugin, and a brief description in the Royal Pavilion inventory, of 'His Majesty's Geranium and Gold Colour' silk.'  Initially, she sent a rough sketch of the design taken from the watercolour to silk weaver Richard Humphries, of Humphries Weaving in Suffolk which specialises in reproducing historic silks for clients such as Historic Royal Palaces.  This began the chain of events which eventually led to the discovery of the original design.
Extraordinary series of events
When researching for the design of the silks, a series of chance discoveries helped historic textiles expert Annabel Westman uncover the original silks design chosen by King George IV for his exotic dream palace. A lost piece of fabric, a long-forgotten photo and a timely discovery in a book, were vital clues to revealing the lavish pattern for the crimson silk panels. The search was reminiscent of the twists and turns of a detective novel and involved an extraordinary series of events.
The end of the search
The final piece of evidence came to light when the team was in contact with the Royal Collection Trust about some chairs.  They had sent the fabric design to the upholsterer at Windsor Castle who said 'Oh, I recognise that fabric, it's on our wall.' Queen Victoria had sent some rolls of fabric from the Royal Pavilion to Kensington Palace. The fabric was used to reupholster a set of chairs later removed for the Queen's Jubilee.  By a fortunate stroke of serendipity, a remnant of this fabric had been saved and was hanging framed on the upholsterer's wall.