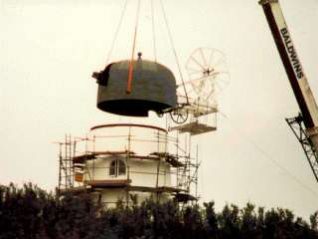 This five storey tower mill in Mill Road, Patcham, was the last working mill to be erected in Sussex. It was built in 1885 for Joseph Harris, a baker who also owned Preston Mill.
In use until 1924
The mill remained in use until 1924 and is now a private dwelling with an extension and a goldfish family in the swimming pool. The current owner, George Musgrave, bought it in 1989 for £250,000, exchanging contracts just two days after viewing it.
Gale damage in 1990
In January 1990 he had to contend with severe damage from gales and a repair bill of £14,000. Then, one December morning at 4.00am the mill was struck by lightning, destroying two sails. The repairs involved removing the cap, dismantling the remaining sails and rebuilding them at a cost of £170,000!