Play - 'Experiment with Fear'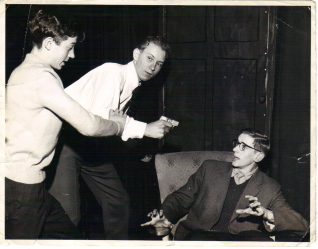 Photo by Brighton Herald: copyright 'The Argus'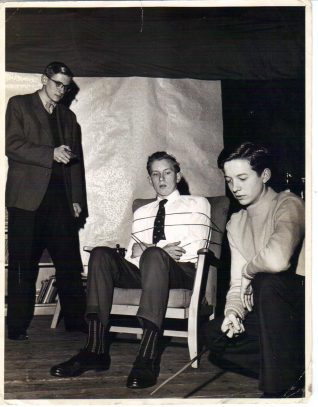 Photo by Brighton Herald: copyright 'The Argus'
Play performed in 1960
These two photographs were taken by the Brighton Herald and show scenes from a play performed at the Knoll School for Boys in the middle hall 'canteen' on Tuesday 12th and Wednesday 13th April 1960.
Morgan's first name?
The photographs are from the private collection of Christopher Cole. He appears in both photographs, with turtle neck jumper, together with Jeffery Kemp, glasses, and  ? Morgan (first name unknown) the play was called 'Experiment in Fear'. We I believe Jeffery Kemp went into music publishing and may have moved to Australia?
Mr Chapple "stunned"
Chris and I think the project was under the control of Mr Chapple who basically left us to our own devices. A note in my diary says he was "stunned" with the performance. We have been trying to remember a number of things and wondered if anybody can help.
Can you help?
*Were you involved in any way-what did you do?
*Did you see the play and what was it about?
*Have you got a programme?
*Do you remember Morgan's first name?
If you can help, please leave a comment below.