Childhood memories of the beach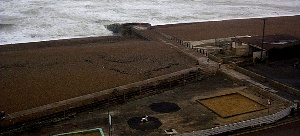 I enjoyed spending the day on the beach near Banjo Groyne, east of the present Peter Pan's playground, on the way to the Brighton Marina. This groyne is shaped like a banjo.
The Volks Railway train used to cross over this crowded beach, going over our heads because the beach was then lower. Sometimes my brother used to throw stones up and try to hit the wheels of the train. I used to worry in case one of these pebbles hit the train and made it topple over onto us sitting underneath – of course it never did.